In this series of blog posts I'm giving a fairly brief overview of some of the reports within the 5 main reporting categories in Google Analytics. In last week's post I gave a brief introduction and discussed the Home Screen / Dashboard and Real Time Reports. This week – I'm talking about Audience Reports.
Blog Posts in this series:
Audience Reports
Acquisition Reports
Behaviour Reports
Conversion Reports
Audience Reports
The Audience Reporting section of Google Analytics is used to identify the types of visitors that have visited a website.
Specific reports are used to break down visitors by age, gender, geographical location, device type, browser, operating system, and much more.
Audience – Overview Report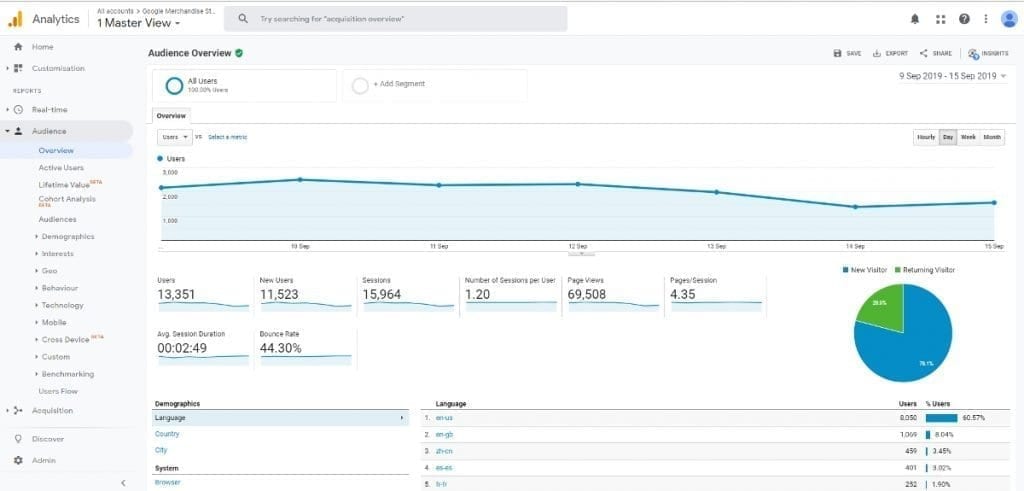 The Audience Overview Report provides high level insight into:
Demographics of your audience (e.g. age and gender)
Interests of your audience
Geographic location (language and location) of your audience
Mix of new and return users and engagement levels of users
Browsers and networks being used to access your site
Devices being used to access your site
Audience – Demographics Reports
Demographics reports at their most basic show the age and gender breakdown of your visitors.
It's possible to segment data by these groupings in order to compare how well different ages and gender combinations convert – this data helps you to build customer personas of high value and lower value customers when combined with other data.
Audience – Interests Reports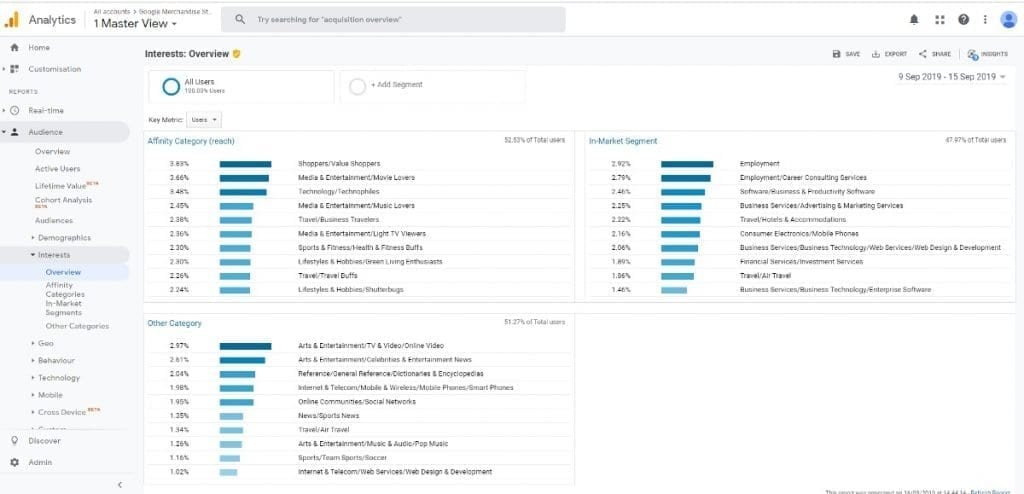 The Interests reports are useful for assisting in the development of personas and judging the value user types.
The data in these reports is gathered via DoubleClick cookie, Android Advertising ID and iOS identifier for Advertisers.
Affinity Categories: Google's view of a users overall interests, passions, and lifestyle
In-Market Segments: Individuals in this audience have indicated (according to Google) that they are actively in-market to purchase a product in a specific category
Other Categories: Provides the most specific view of your users. E.g. Whilst Affinity Categories includes Foodies, Other Categories includes Recipes/Cuisines/East Asian
Audience – Geography and Language Reports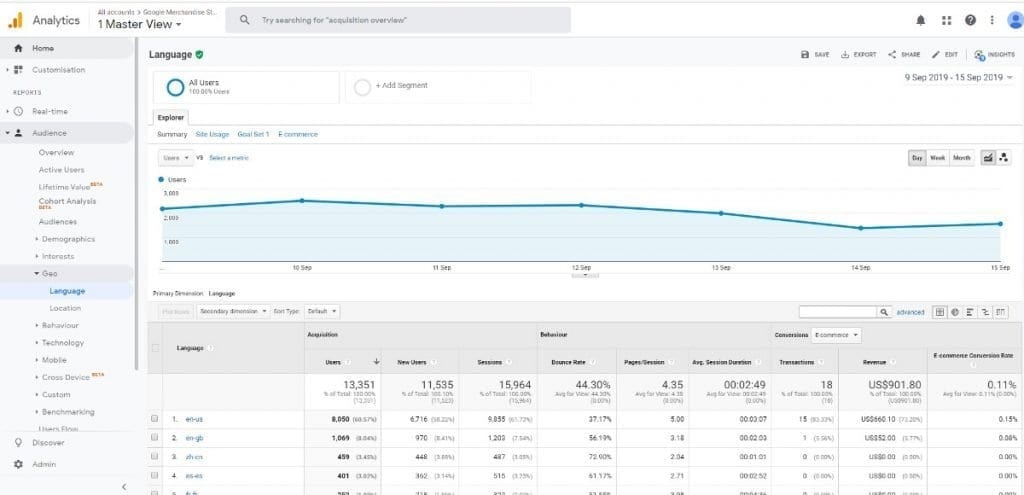 The Geography and Language reports allow you to compare country and language of your website users and compare engagement and conversion rates. They also help you in answering questions like "Are there untapped opportunities in other countries?" and "Do I need to look at creating a multi-lingual site?"
Audience – Technology (Operating System, Browser, Network) Reports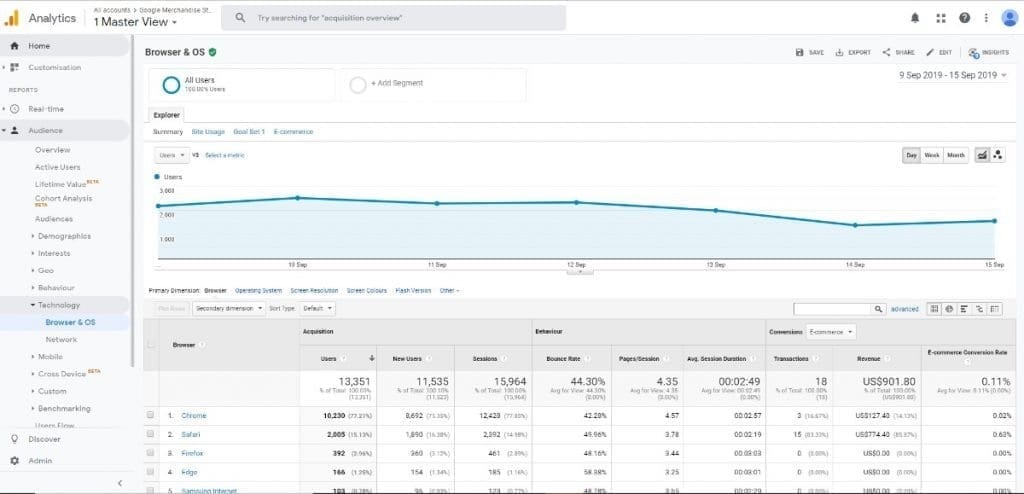 These reports tell you which browsers and operating system combinations your users use.
Optimising your site for the appropriate technical capabilities makes your site more engaging and usable and can result in higher conversion rates and sales.
These reports also tell you what networks and hostnames users visited your site on. The hostnames report can be used to identify spammy traffic. "Ghost spam" will always either leave a fake hostname or no hostname (not set) in Google Analytics. Legitimate traffic to your site, on the other hand, will always use a real hostname – usually the domain of your website . I'll write a more detailed blog post on that topic soon!
Audience – Mobile Reports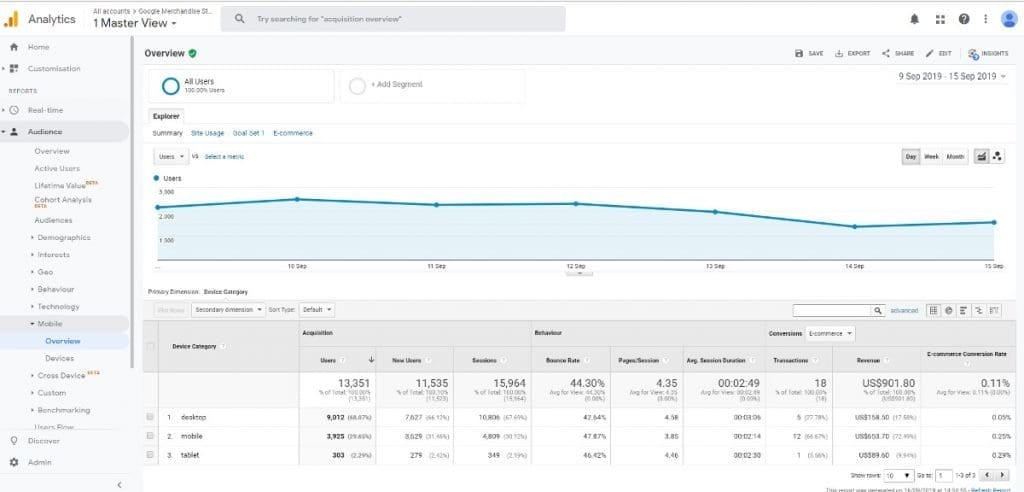 These reports give you an understanding of which devices your audience use, the input methods they use to interact with content and the screen sizes on which they're viewing your content. All this information lets you tweak current versions and plan for future development.
Again, you can segment by Device category to compare conversion rates and engagement on different device types, actual mobile devices, etc. to either:
focus marketing on over-performing devices or
optimise the site for under-performing devices.
Next Week…
There are a few other reports available to you within the Audience category, some of which are in Beta and some of which are complicated enough to warrant a dedicated blog post (I'll get to these in future). That's it for my overview of the key reports though. Next week I'll be discussing the main reports available to you within the "Acquisition" category in Google Analytics. Stay tuned…
Download The Infographic: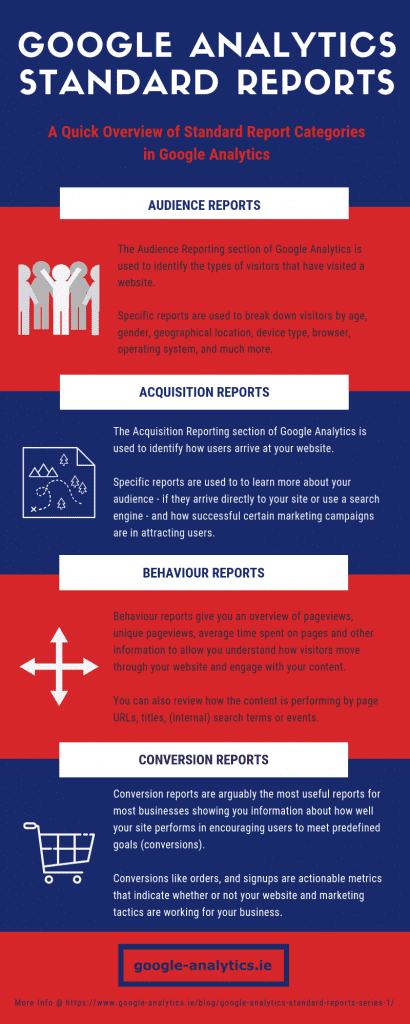 Get in Touch: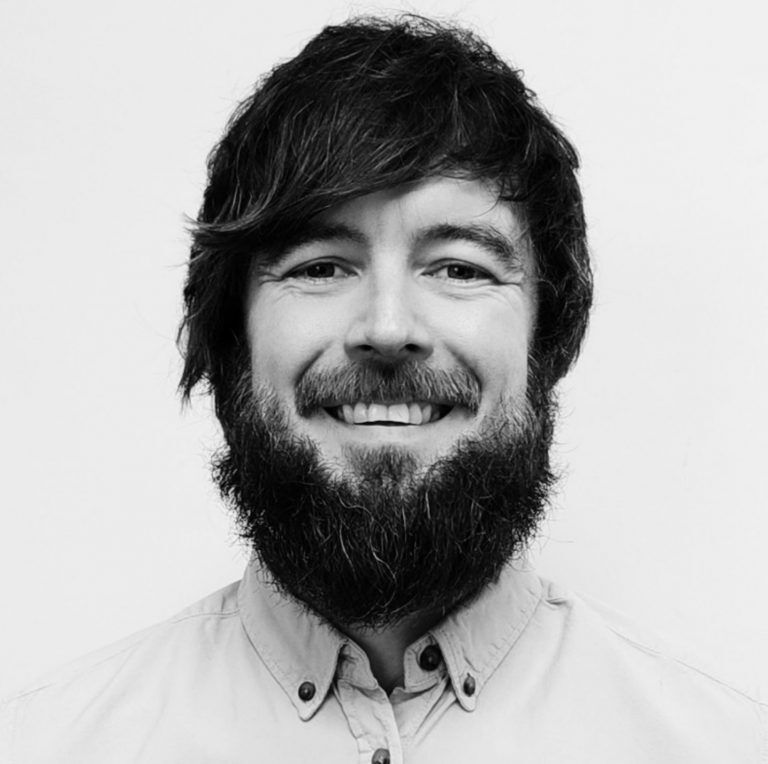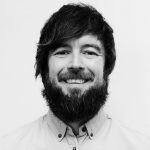 Darren is SEO Growth Lead at Velocity Growth. He is experienced in developing bespoke SEO roadmaps and implementing long term SEO strategies to build organic visibility, traffic and conversions for clients across a diverse range of industries.