In this series of blog posts I'm giving a fairly brief overview of some of the reports within the 5 main reporting categories in Google Analytics. In last week's post I discussed the key reports in the Behavior category. This week – I'm talking about Conversion Report – there's a lot to get through here so I've decided to split this final section into 3 seperate blog posts. First up I'll be focusing on Goal reports.
Blog Posts in this series:
Conversion Reports

Goal Reports
Ecommerce Reports
Multi-Channel Reports
What are Conversion Reports?
Is your website helping you to meet your overall business objectives? Conversion reports are arguably the most useful reports for most businesses. These reports show you information about how well your site performs in encouraging users to meet predefined goals (or "conversions"). Conversions like orders, and signups are actionable metrics that indicate whether or not your website and marketing tactics are working for your business.
Conversion reports can tell you how each goal that you are tracking on your website is performing. They allow you to:
Track user actions on your site that indicate that a business objective is being met (e.g purchase, newsletter signup, contact form submission, etc.)
Analyse conversion rates (# of conversion / # of users) of overall traffic or different segments of your audience (e.g. traffic via social vs traffic via SEO)
Analyse goal funnels to identify at what stage users give up on completing a conversion
There are 3 categories of reports within the Conversion Reports section in Google Analytics:
Goals: These reports offer you an overview of how your site is performing against specific goals that you have set up – showing you the amount of goal completions along with the conversion rate of each goal. Note: Goals are not set up in an out of the box Google Analytics configuration – you should set goals based on the specific objectives of your particular organisation using a Google Analytics Measurement Plan
Ecommerce: When enabled on e-commerce sites, these reports offer information on your product sales and checkout flow
Multi-Channel Funnels: Give you information on conversions based on different channel attribution models e.g. first touch, last touch, etc.
As I've mentioned, there's a lot to get through here, so in this blog post I'm just going to focus on Goals and Goal Reports. Next week I'll publish a second post on Ecommerce reports, then a final one on Multi-Channel Funnels.
What are Goals?
If you don't have any goals set up, your conversions reports will be blank. And without goals configured, it's almost impossible to evaluate the effectiveness of your online business and marketing campaigns. So your first priority when setting up your Google Analytics property should be defining, then implementing your Goals.
To determine what goals are worth tracking, you have to be clear on your website's purpose in the first place. The starting point should be asking yourself the questions:
What is our website for?
Why do we have it?
Are there different objectives for different stakeholders?
What do we want users to do on our site?
Some examples of possible website goals are purchases, lead data capture, application form submissions, subscriptions and registrations. Although you can set multiple goals (up to 20 per view), you shouldn't go OTT – track only those goals that are directly beneficial to your organisation. Irrelevant goals can lead to a distorted picture of site performance at a macro level and lead you to make the wrong marketing decisions, costing you money. The best way to ensure that you track only what's relevant is to undertake a Google Analytics Measurement Planning Workshop.
Read my blog post on how to set up Goals in Google Analytics.
So… now that we're clear on what Goals are – let's take a look at some of the key Goal Reports within the Conversion Reports section!‍
Conversion Reports – Goals Reports
Goals – Overview
The Goals Overview report gives you topline data regarding how your site is performing against your defined Goals, including:
Overall Total number of Goal completions (conversions)
Overall Goal Value
Overall Goal Conversion Rate
Overall Goal Abandonment Rate (if you have funnels set up)
Individual Goal completions for each Goal
Top Goal Completion locations (I.e. the pages where Goals are most commonly completed)
Top "source/medium" of Goals (e.g. "google/organic")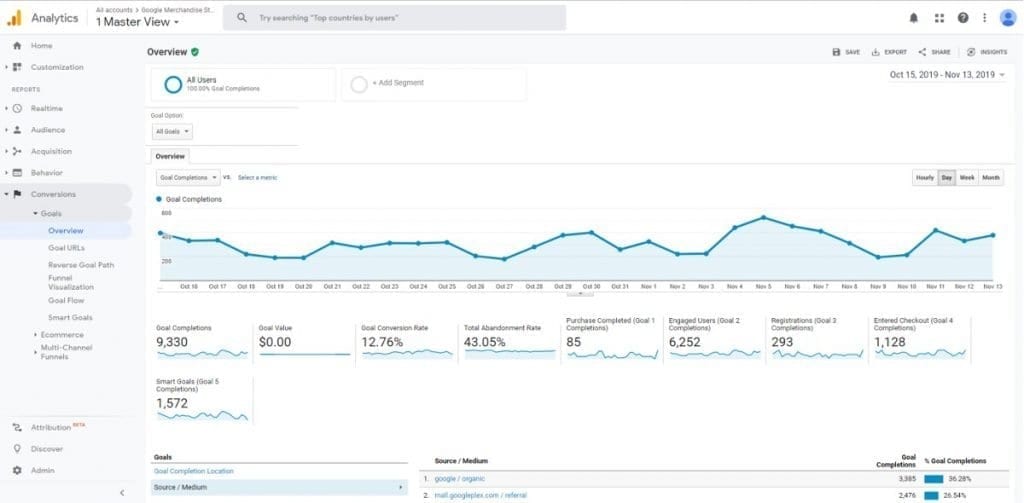 Goals – Goal URLs
This report simply shows you an expanded view of the Goal Completion location information you see on the Overview report. The difference here is that you can toggle between specific Goals (rather than the aggregated figure in the previous report) and see which pages of your website generated the most conversions and highest Goal value (if you have assigned values to your Goals).
The usefulness of this report varies amongst websites depending on goals and site structure. For example if you have the confirmation page URL for every goal completion (e.g. a lead gen form) then obviously that URL will report the most conversions and value. You can still get value from this report in that case by adding a secondary dimension of "Goal Previous Step – 1" for example.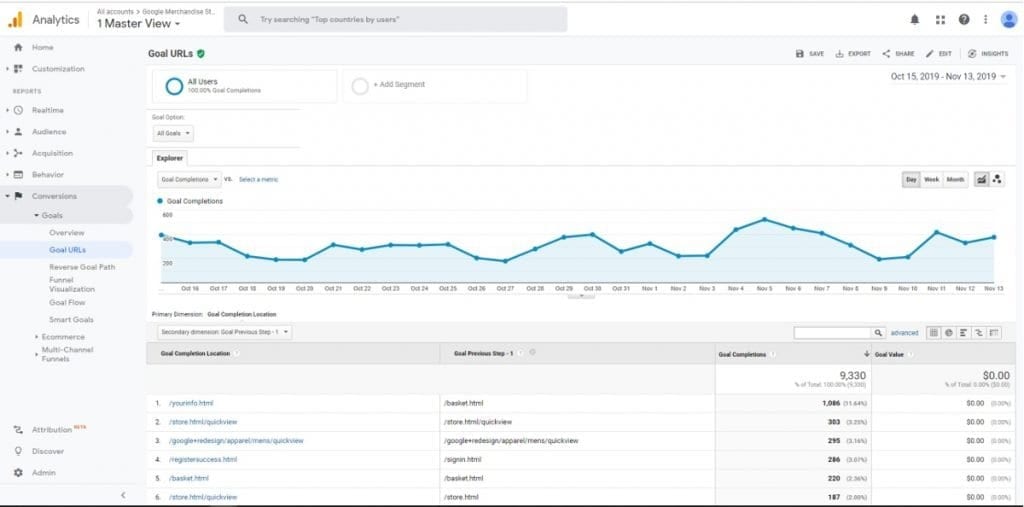 Goals – Reverse Goal Path
This report shows you the most common paths that visitors took to a Goal completion by listing the URLs of the previous 3 pages prior to the Goal completion location.
Goals – Funnel Visualization
When setting up goals, you have the opportunity to define a goal funnel. Traditionally, a "goal funnel" is the sequence of steps that a website user needs to go through in order to convert (e.g. buy a product, sign up for a subscription, request a callback, etc.). Google Analytics allows you to define each step of this funnel as long as each step is a unique web page with it's own URL, which is a little bit limiting (note: there is a workaround to this by creating goal funnels with virtual pageviews – I'll write a seperate blog post on this at some stage).
So if you have configured a goal funnel or one of your goals, the Funnel Visualization report allows you to see how many people have gone through each individual step and how many abandoned their conversion at each step.
So if you have goal funnels set up, this report can be extremely helpful in determining what steps of a funnel (e.g. checkout process) users are dropping off at, allowing you to tweak those steps to improve conversion rates. For example, if you find that users are moving through a goal funnel until they get to a sign-up form with a large amount of required fields – you can infer that the users are intimidated by the amount of data required, or don't have some required details to hand – you can then A/B test a version of that page with a more simplified structure, or autofill feature, or some other feature to simplify the process in order to see if the drop off rate decreases.
It's important to note that this report comes with some quirks like, for example, the fact that it backfills between steps – counting visits for a step that may not have been touched upon by a user as long as the step directly before and after it were.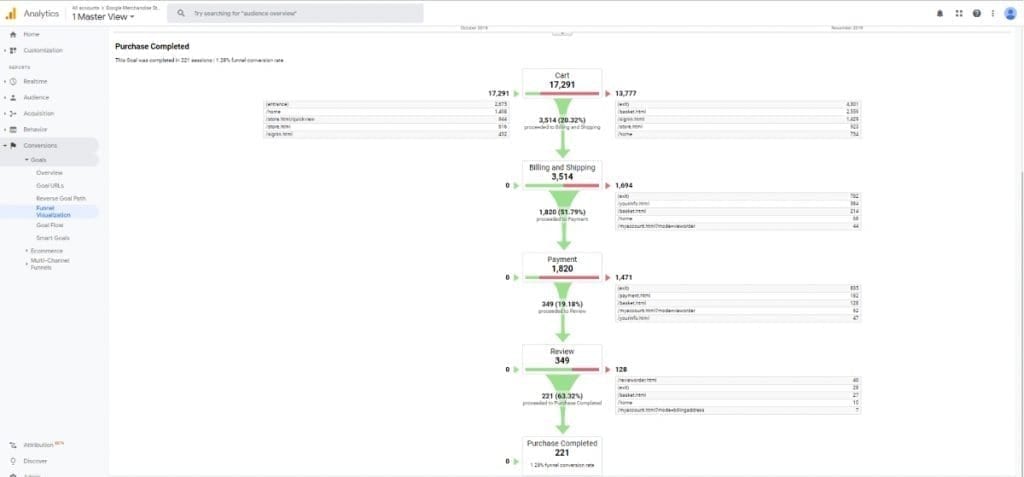 Goals – Goal Flow
The Goal Flow report offers a visual representation of the actual path your site users took on their way to completing a Goal.
Sounds a lot like the Funnel Visualization report right?
But it's not quite the same, remember I said that the Funnel Visualization report requires you to define the series of steps a user must go to in order to complete a Goal – e.g. for a purchase the Goal Funnel steps would logically be Cart to Billing and Info to Payment to Review to Purchase as per the screenshot above. However, with the Goal Flow report, there's no pre-configuration of a funnel required – it simply shows you the actual route users took to completing your goal. It's not quite as pretty a report, but it can actually provide much more insightful data than your Funnel Visualization report by highlighting routes to conversions that you hadn't thought of before. It's very often the case that a user won't go through your preconceived "standard" goal funnel before converting – for example, they might skip a step, loop back to a previous step, or take a detour via some other pages for more information.

See more information on Funnel Visualization vs Goal Flow reports here.
Goals – Smart Goals
Ignore this report. Google Ads Smart Goals are nonsense.
Next Week…
That's it for part 1 of my overview of the key Conversion reports within Google Analytics. I'll be completing this series in the coming weeks blog posts on the rest of the Conversion reports within Google Analytics, namely Ecommerce Reports and Multi-Channel Funnel Reports. Stay tuned…
Download The Infographic: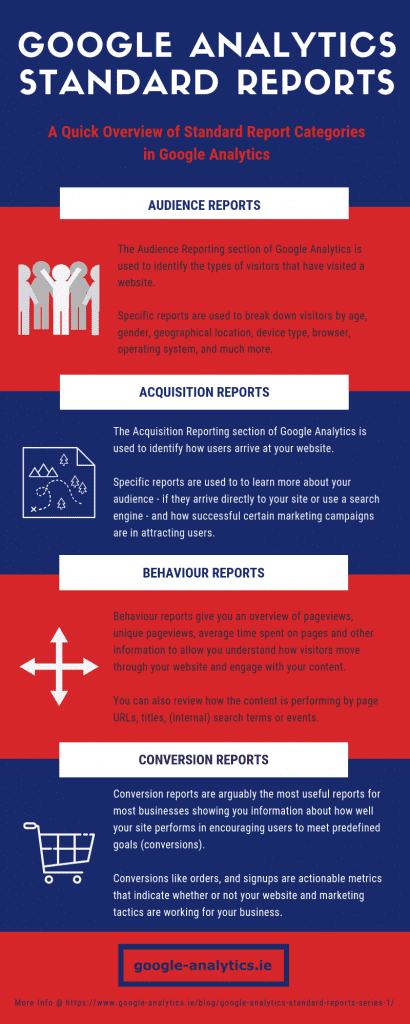 Get in Touch: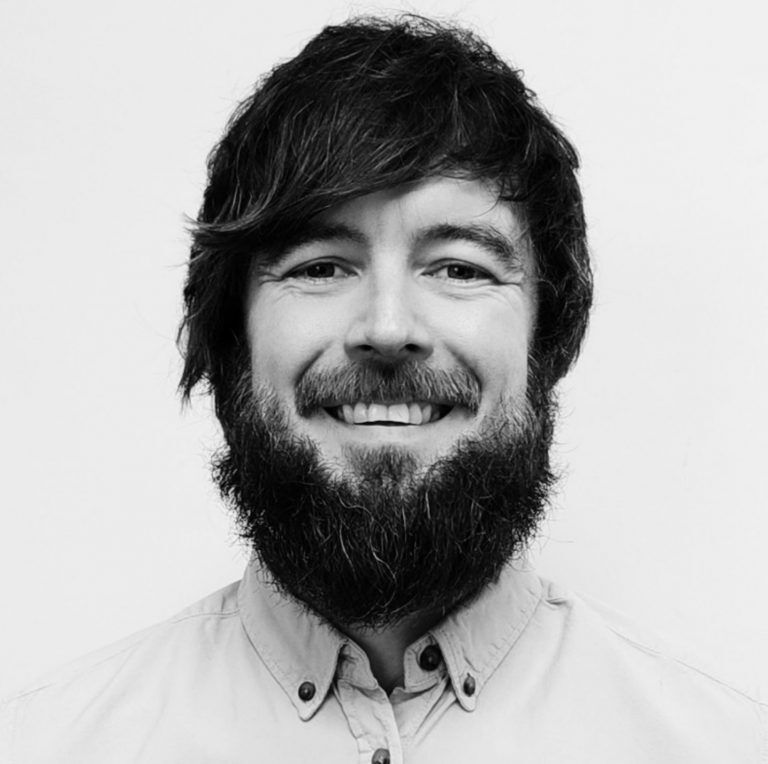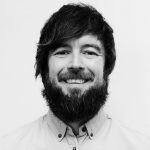 Darren is SEO Growth Lead at Velocity Growth. He is experienced in developing bespoke SEO roadmaps and implementing long term SEO strategies to build organic visibility, traffic and conversions for clients across a diverse range of industries.