In this series of blog posts I'm giving a fairly brief overview of some of the reports within the 5 main reporting categories in Google Analytics. Last time around I decided to split up my overview of the Conversion Reports into 3 seperate blog posts, speaking first about Goal Reports. Today, I'm focusing on eCommerce Reports.
Blog Posts in this series:
About eCommerce Reports
Google Analytics offers two different types of eCommerce tracking implementations. Depending on your configuration – Standard or Enhanced eCommerce tracking – you will see a different set of reports in the eCommerce section.
Both Standard and Enhanced eCommerce reports show you what products were purchased, how many of each and what revenue each product generated. However, Enhanced eCommerce reports offer much more information around the customer path to purchase, rather than just topline figures.
Neither set of reports is populated by default in a standard implementation of Google Analytics. So if you do sell products or services directly from your website, it's important that you have your web developer set up e-commerce tracking.
Standard eCommerce Reports
Standard ecommerce tracking tracks only transaction and item data through the standard ecommerce plugin. For smaller ecommerce websites with only a few online products, this will generally work just fine.
Standard eCommerce Reports – Overview
The Overview report shows your data in relation to your website sales including:
E-Commerce Conversion Rate (i.e. Transactions / Total Sessions)
# Transactions
Revenue
Average Order Value (I.e. Total Revenue / Total Transactions)
Unique Purchases (I.e. purchases by unique visitors)
Quantity (I.e. total amount of items purchased – differs from "Transactions" in that if a user completes one transaction in which they purchase 2 items, Transactions will be 1 but Quantity will be 2)
These dimensions can all be used to create custom segments which in turn can be shared with your Google Ads account as remarketing audiences.
You can also see topline data on top revenue by Product, Product SKU, Product Category and Source / Medium in this report.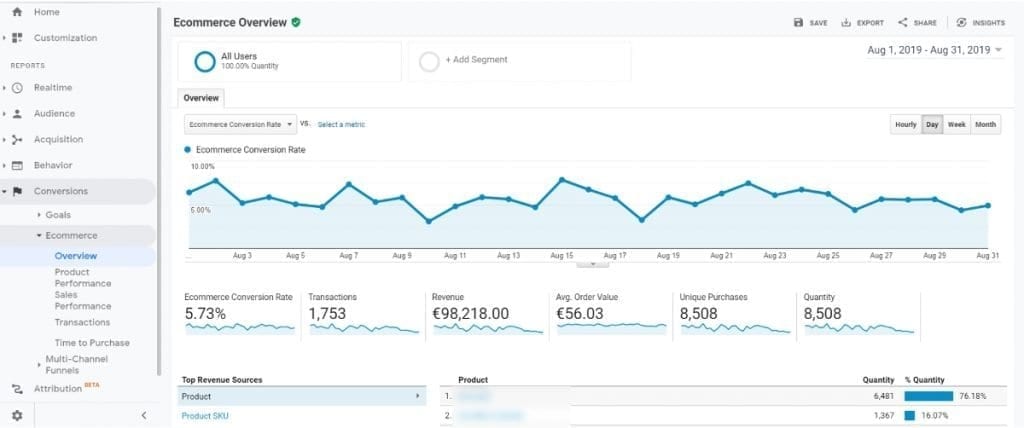 Standard eCommerce Reports – Product Performance
The Product Performance report gives you more information on exactly which products your users prucahse, the quantity of each purchased and the revenue generated by each product.
Standard eCommerce Reports – Sales Performance
The Sales Performance report offers a breakdown of sales performance by date, allowing you to review the best and worst performing days, for example. You can use the data to optimise marketing activity for customers on high revenue days. It's important to note that this data may not match up exactly with your other internal systems as refunds and offline behavior are not necessarily tracked.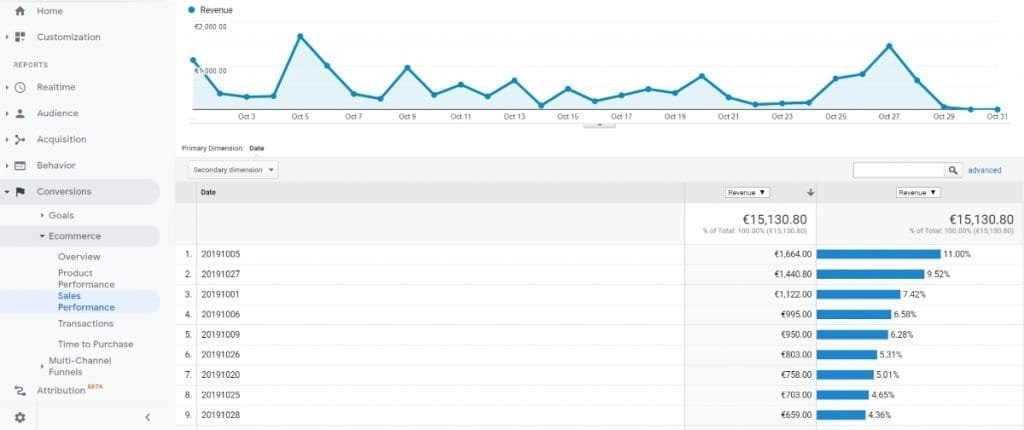 Standard eCommerce Reports – Transactions
The Transactions report shows data of individual transactions by transaction ID showing revenue per transaction, tax, shipping and quantity information for each transaction.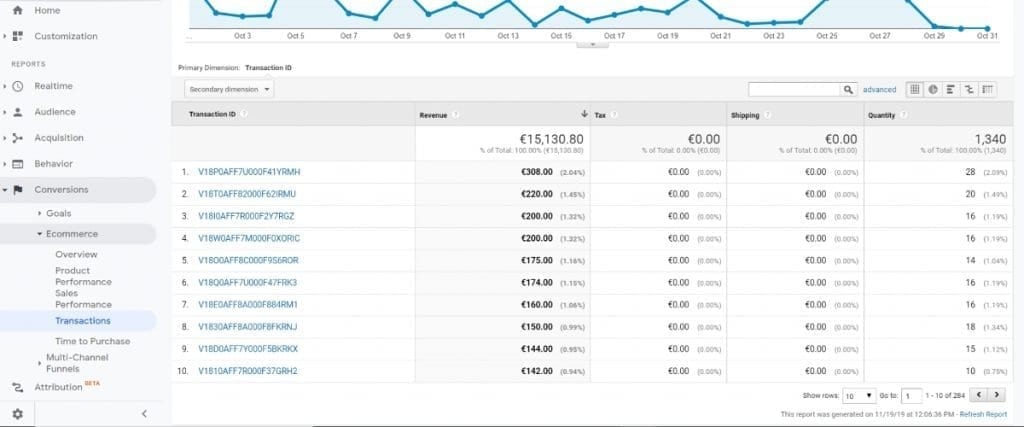 Standard eCommerce Reports – Time to Purchase
This report shows you the average number of days and number of visits it takes users to make a purchase after visiting the site for the first time (based on GA cookie).
Enhanced eCommerce Reports
The Enhanced eCommerce plug-in allows for the measurement of user interactions with products on ecommerce website beyond that information provided by the standard implementation. It's important to state that whilst many eCommerce providers like Shopify, WooCommerce, EasyCart and Magento offer automatic integration with Google Analytics Enhanced eCommerce, if you're eCommerce site is not built upon one of those platforms, there can be quite a lot of developer input required to set up the features correctly. Google offer plenty of information for developers in their Developer Guides but each and every implementation will be unique.
Once you do manage to get this set up, the additional user interactions tracked include:
Product impressions
Product clicks
Viewing product details
Adding a product to a shopping cart
Initiating the checkout process
Refunds
Checkout steps
Not all of these interactions are required to be set up, pick and choose those that are important to you. Here are the main reports available to you once Enhanced Ecommerce tracking has been set up.
Enhanced eCommerce Reports – Shopping Behaviour
The Shopping Behavior number of sessions that included each broad stage of your purchase funnel, how many sessions continued from one step to the next, and how many abandoned the funnel at each stage. The Shopping Behavior Funnel Report steps are:
All Sessions
Sessions with Product Views (visited a product page)
Sessions with Add to Basket
Sessions with Transactions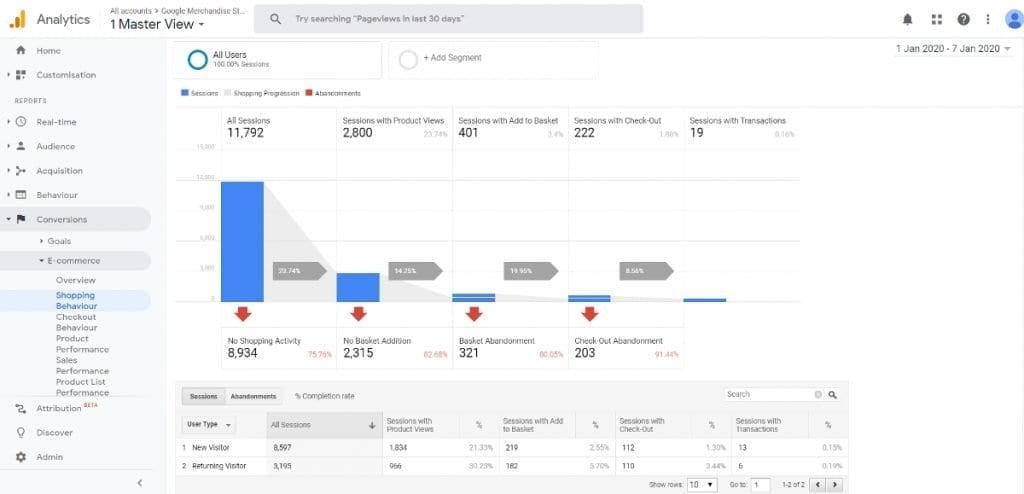 This report allows you to evaluate the shopping experience on your website and identify strengths and weaknesses in your purchase funnel. You can also create segments based on this Shopping Behaviour Funnel e.g. a segment of all users that abandoned the funnel at the Checkout stage. This segment can then be shared with Google Ads and used as a remarketing audience!
Enhanced eCommerce Reports – Checkout Behaviour
This, in my opinion, is usually the most useful report in Google Analytics.
Whilst the Shopping Behavior report shows you the number of sessions that included each broad stage of your purchase funnel, the Checkout Behaviour report breaks that 4th stage ( Sessions with Checkout) further to allow you to evaluate the "lower-funnel" from the initiation of the checkout through to the confirmation page.
According to Statista data, the average online shopping cart abandonment rate worldwide in 2019 was 69.57%. What this report allows you to do is pinpoint where exactly in that checkout funnel users are dropping off on your site. When set up correctly, this report can offer you the data to identify the particular areas of your checkout funnel that need optimisation, and in turn considerably reduce that cart abandonment rate. Very often optimising your cart abandonment rate can provide a far higher ROI than spending more of your budget on driving more traffic to your site in the first place.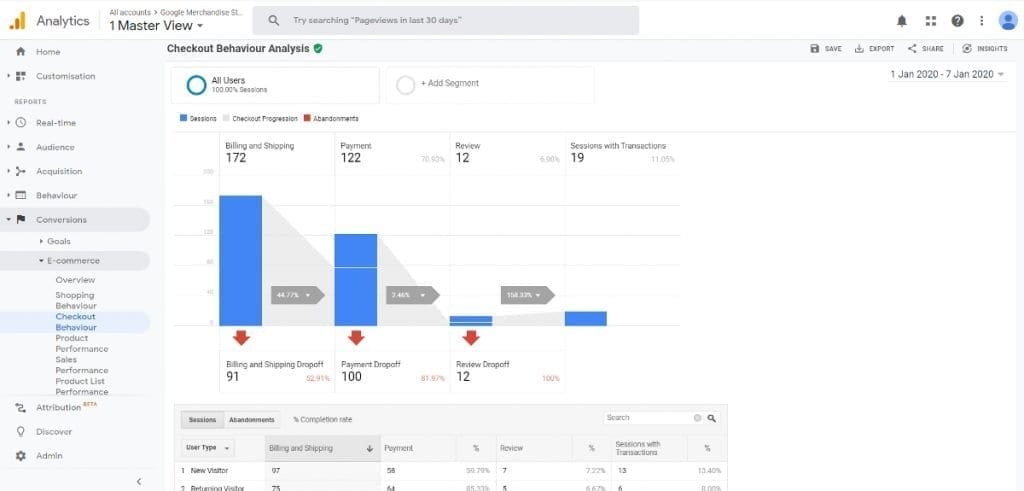 Checkout steps are configured by your developer through the dataLayer or through a Google Analytics function call. By default each checkout step is automatically given a generic name e.g. Step 1, Step 2, Step 3, etc. So the payment step for example might be automatically named "Step 4". You can cusomise these names to make the report more understandable to the users in your View settings in Google Analytics.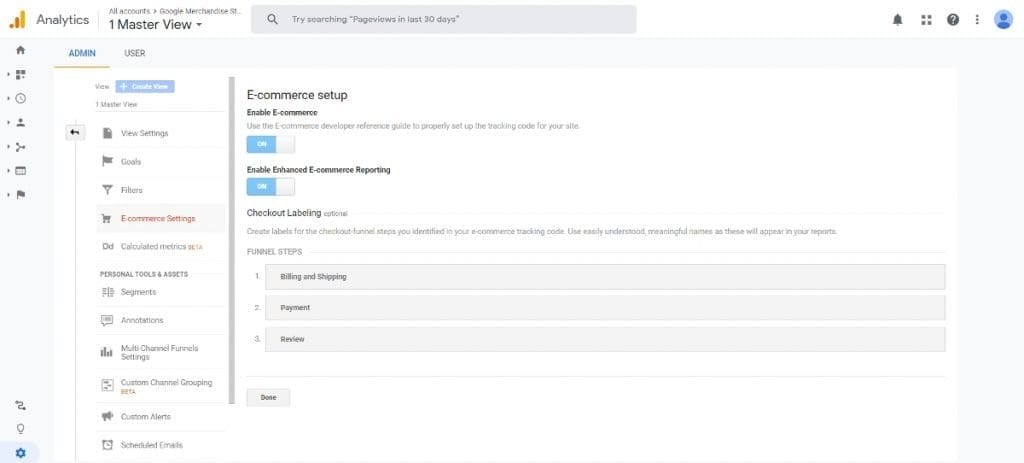 Just like the Shopping Behaviour report, you can also create segments based on your Checkout Behaviour report to analyse the types of users that abandon cart at a certain stage or to remarket to a particular set of users . For example, you might create a segment based on sessions that included the Billing and Shipping and the Payment steps but never followed through to make a purchase. To create a segment click a funnel step, transition, abandonment arrow, or the entrance at a given step (the topmost bar in a step).
Enhanced eCommerce Reports – Product List Performance
The Product List Performance report lets you see how the "Product Lists" on your site performed based on the following metrics:
Product List Views (number of times users viewed products when they appeared in the product list)
Product List Clicks (number of times users clicked products when they appeared in the product list)
Product List CTR (number of clicks divided by the number of times the list appeared)
But… what are product lists? Well, again, your developer will set up yours for you depending on your site, but basically a Product List is a logical grouping of your products on your site. For example:
Catalog Pages: The simplest of the product lists, catalog pages allow you to compare how different catalog pages in your online store compare with each other. For example you might have a shoes catalog page, a t-shirts catalog page, a trousers catalog page, etc. This is the most common type of Product List, the most static and the most straightforward to implement.
Related Products / Cross Sell Blocks / Up Sell Blocks: On product pages on your eCommerce site, you might have a block of suggested related or similar products. These can also be set as product lists allowing you to evaluate which suggested offering performs best.
Search Results Pages: You can create a product lists based on search query results. For example, all of the products that are shown when someone searches for "shoes" could be made into one product list. This is a dynamic list, and naturally actual products listed in the list may be different depending on the search.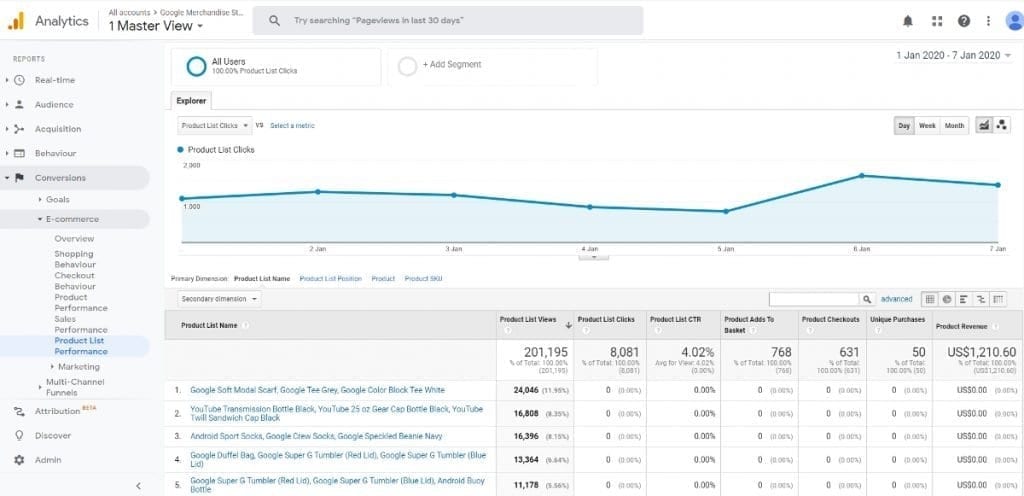 Enhanced eCommerce Reports – Marketing Reports
Finally, there are 4 additional "Marketing Reports" with Enhanced eCommerce tracking. These reports are:
Internal Promotion: let's you see how your internal promotions (e.g. banners in Section A which promotes Section B) performed in terms of Views, Clicks and CTR.
Order Coupon: let's you see how your order-level coupons / promo codes performed in terms of Revenue, Transactions and Average Order Value.
Product Coupon: let's you see how your product-level coupons performed in terms of Revenue, Unique Purchases and Product Revenue Per Purchase
Affiliate Coupon: let's you see how your affiliate sites contributed to your sales in terms of Revenue, Transactions and Average Order Value
Next Week…
That's it for my overview of eCommerce reports within Google Analytics. Google themselves offer some more information on analysing eCommerce data on their support site. I'll (finally) be completing this series in the coming weeks with my overview of Multi-Channel Funnel Reports in Google Analytics. Stay tuned…
Download The Infographic: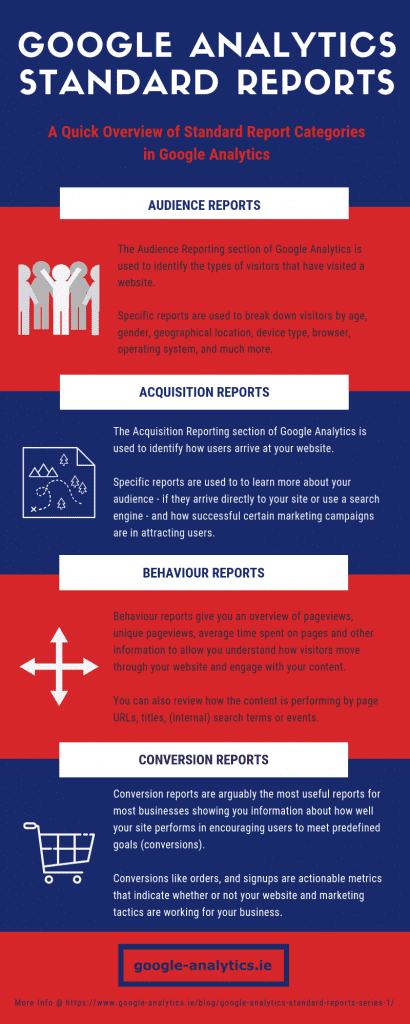 Get in Touch: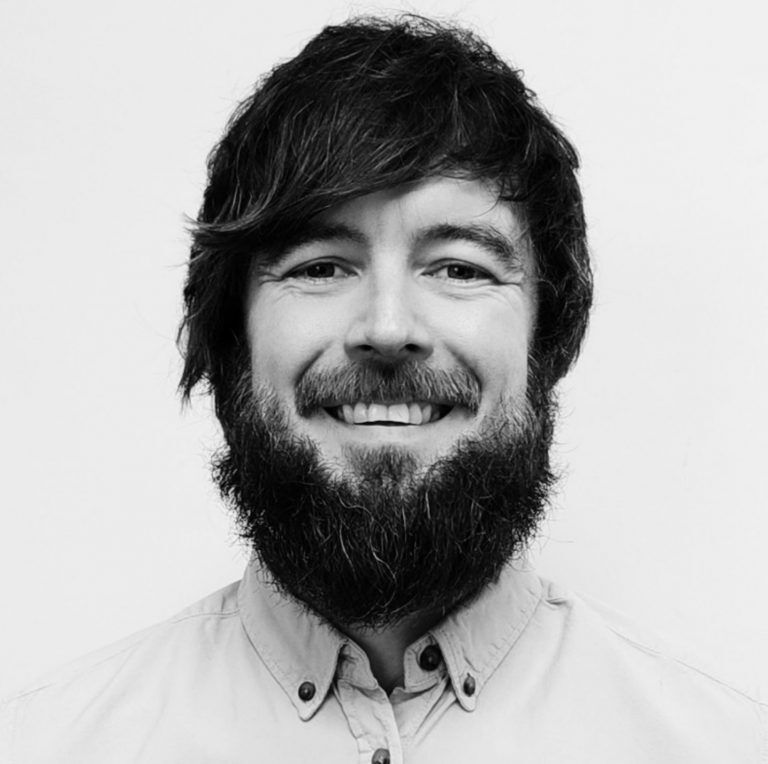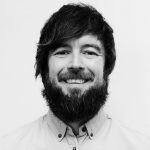 Darren is SEO Growth Lead at Velocity Growth. He is experienced in developing bespoke SEO roadmaps and implementing long term SEO strategies to build organic visibility, traffic and conversions for clients across a diverse range of industries.