What Are Goals in Google Analytics?
Goals are a feature within Google Analytics that allow you to measure how well your site or app fulfills your target objectives. A goal represents a completed activity, called a conversion, that contributes to the success of your business.
Defining goals is a fundamental component of any web analytics measurement plan. Having properly configured goals allows Analytics to provide you with critical information, such as the number of conversions and the conversion rate for your site or app.
Without this information, it's almost impossible to evaluate the effectiveness of your online business and marketing campaigns.
Depending on the type of website, an example of a Goal might be:
E-commerce Website: Goal is usually for users to purchase a product
Lead Generation Website: Goal may be for users to complete a lead capture form
Content Website: Goal may be for users to engage with the content on site (add comments, share content, watch videos, etc.)
Setting Up Goals in Google Analytics
Sign into your Google Analytics property.

Click "Admin" in the bottom left hand corner.

In the 'View' column, click 'Goals.'

Click the red '+ New Goal' button

You will be presented with a number of Goal templates, but usually you will click "Custom", then "Continue".

Give your goal a name then select your Goal Type…
Types of Goals in Google Analytics
When you've got this far, you will be presented with 4 Goal types. The 4 types of Goals available in Google Analytics are:
Destination (A specific location loads): e.g. "Thank you for registering!" web page or app screen
Duration (Sessions that lasts a specific amount of time or longer): e.g. 10 minutes or longer spent on a support site
Pages/Screens per session (A user views a specific number of pages or screens): e.g. 5 pages or screens have been loaded
Event (An action defined as an Event is triggered): e.g. form submission, video play, ad click
In the next 4 sections I will run through how to set up each one of these Goal types.
7.1. Setting Up Destination Goals
Continuing from step 6 above…
i. Give your goal a name, and select "Destination" then click "Continue"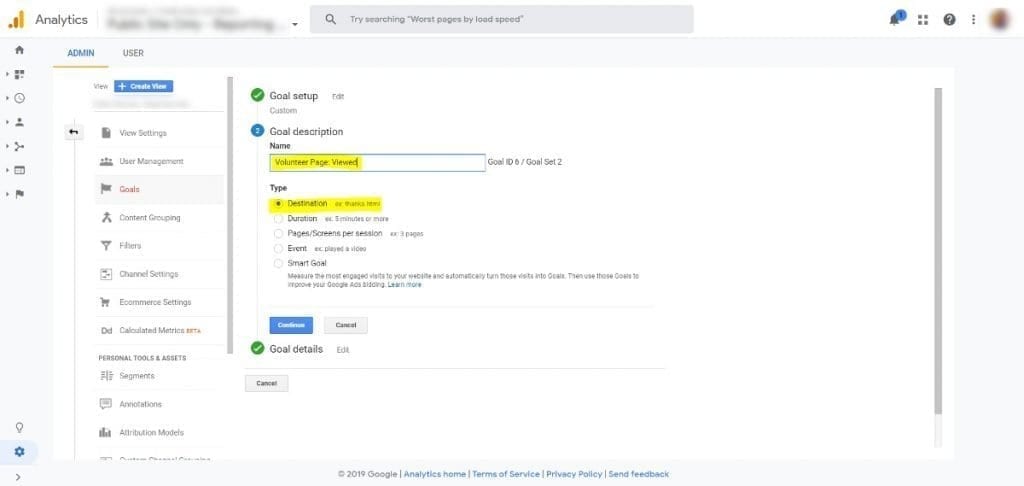 ii. Simply select "Equals to" from the weekend and input the page path of the page you would like to use as the destination goal. Then click save!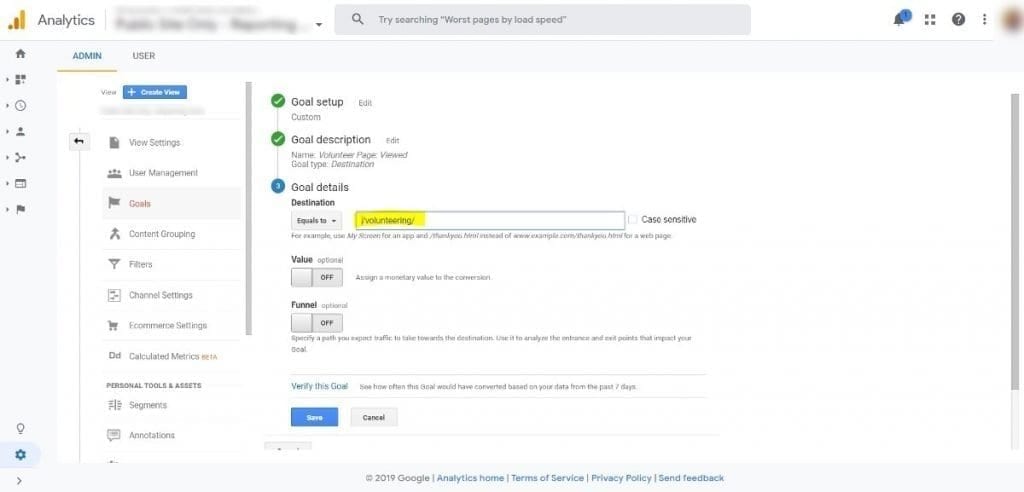 7.2. Setting Up Duration Goals
Continuing from step 6 above…
i. Give your goal a name, and select "Duration" then click "Continue"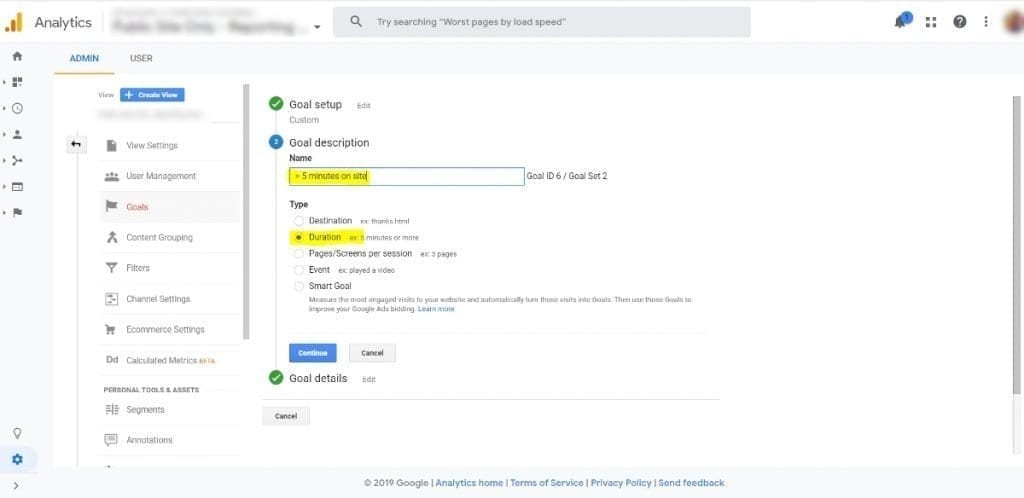 ii. Simply select the duration that you would like to set as a Goal. Then click save!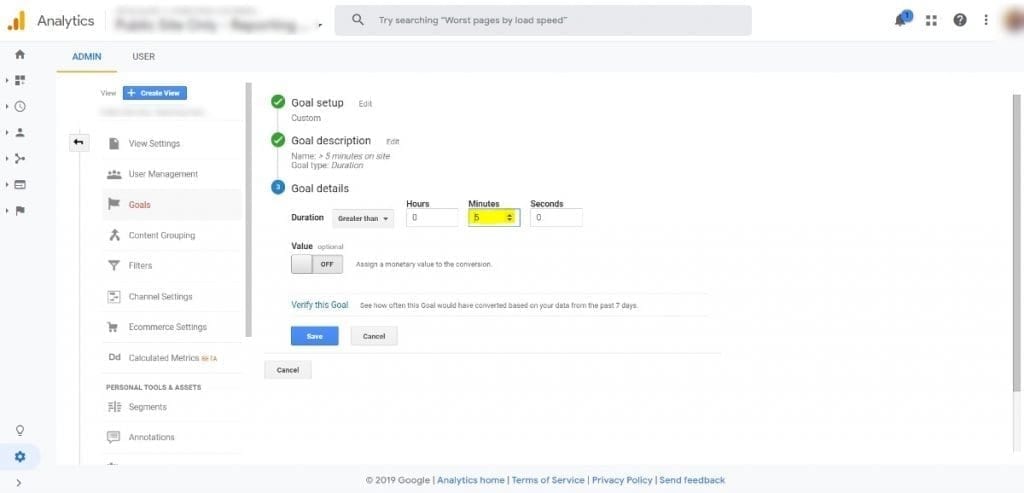 Note: In my humble opinion, I would avoid Duration goals in most cases for a number of reasons – one key one being that this goal will be tracked if a user views your site for <5 minutes (even a few seconds) before leaving to browse in other tabs / windows, leaving your site open in a tab / window but not actually interacting with it in any way.
Another reason is that Google's means of calculating "Time on Site" involves subtracting a time stamp of the 1st page you visit from that of the 2nd page you visit. Thinking about this logically, it means that for a user who only visits one page, regardless of the amount of time they actually spend on the site, "Time on Site" will be recorded as zero! This, of course, is problematic particularly for one-page websites.
7.3. Setting Up Pages/Screens per Session Goals
Continuing from step 6 above…
i. Give your goal a name, and select "Pages/Screens per session" then click "Continue"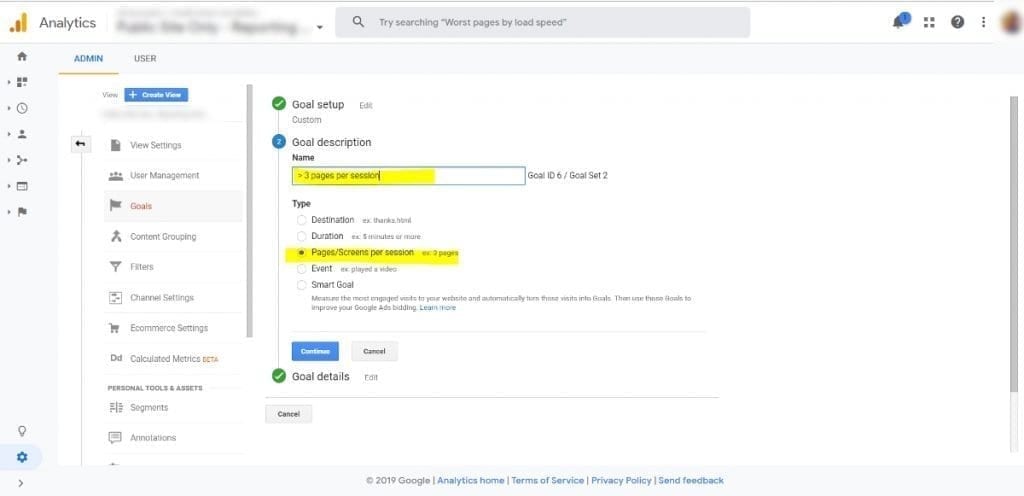 ii. Simply select the minimum amount of pages / screens per session that you would like to set as a Goal. Then click save!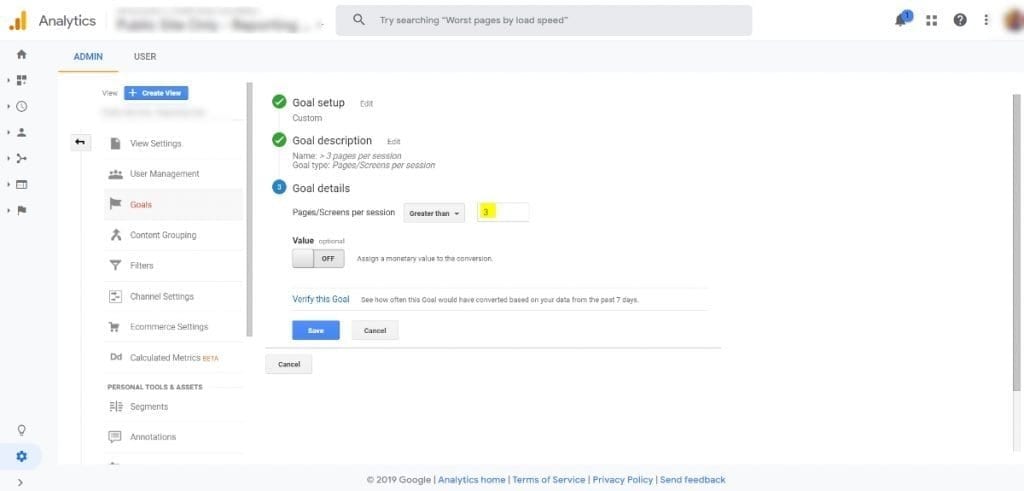 Note: Again, generally I would avoid Pages/Screens per session goals in most cases based on the simple fact that in general pages per session is not an SMART actionable goal.
If a user visits 10 pages on my site in one session then, sure, it could mean that the user is highly engaged and finds my content extremely useful and simply can't drag themselves away from my site. However, it could also mean that the user spent ages browsing around my site, searching for information that they expected to find, but could not due to poor UX or other issues. The latter is hardly something we want to track as a "conversion"?
7.4. Setting Up Events Goals
Before we get down to setting up event goals, we need a bit of background on what events are…
By default Google Analytics can't track any event which does not generate page-view when it occurs. An event is essentially a user interaction/activity with a web-page element. e.g.
Downloading a file
Viewing a video
Log-ins
Scrolling down the page
To track these types of events that do not generate page-views, you need to use event-tracking. The easiest way to set up event tracking is via Google Tag Manager.
How Event Tracking Works
This is worthy of it's own blog post, which I will get to at some stage, but essentially a snippet of custom code is set up to be fired by the action you want to track on your website (e.g. click of a download link) and when that action happens (e.g. the download link is clicked), it is tracked and displayed as an event within Google Analytics.
The event tracking code consists of four elements that you can define to describe the action on your website:
Category (Required) is the name you give to a group of objects you want to track.
Action (Required) is the type of interaction, such as downloading a document.
Label (Optional)is useful for summarising what the event is about, such as clicks on navigation menu options.
Value (Optional) can be used if you'd like to assign a numeric value to your file download.
When the event fires on your site, the 'Category', 'Action', 'Label' and 'Value' attributes are sent to your Google Analytics reports giving you details about the action you are tracking – e.g. number of downloads of particular documents.
In the example I will reference below, I have triggered an event to fire each time any file is downloaded from my website. This event passes the following data back to Google Analytics:
Category: "File Download"
Action: The URL path of the page that the file is downloaded from
Label: The URL path of the downloaded document itself
Value: null
Event data is then viewable in the Behaviour – Events report. In the image below we see that report filtered by the Event Category "File Download", which lists the names of all the documents downloaded from our site as the Event Labels and tells us the amount of times each file was downloaded.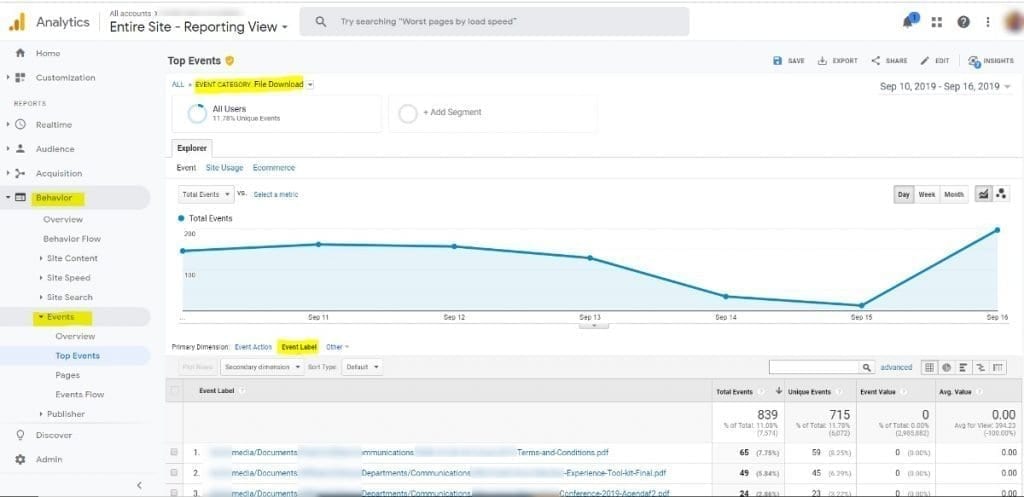 Crucially, once we have set up our events, these Events Can Be Used As Goals – e.g. you can set up a Goal to track downloads of a particular document, allowing you to easily analyse the number of conversions (downloads), the conversion rate (users who downloaded / all users) and which channels drove the most conversions (downloads).
(Finally) Actually Setting Up Events Goals
So now to continue creating our goal, we continue from step 6 above and….
i. Give your goal a name, and select "Event" then click "Continue"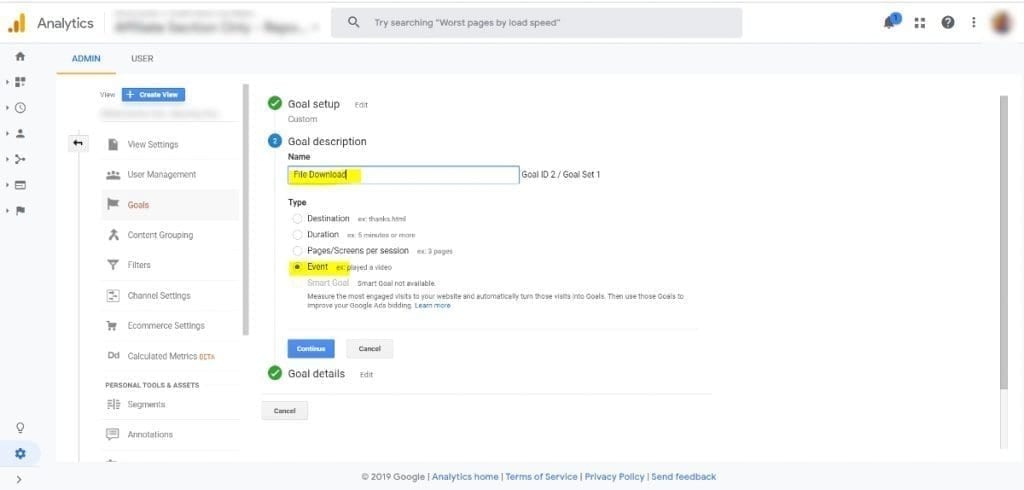 ii. Here you have the opportunity to be as broad as you like (e.g just setting Category = File Download to track all downloads of all files as a Goal) or as narrow as you like (e.g. setting Category = File Download and Label = "/annual-report-2019.pdf" to track only downloads of that specific file as a Goal). Then click save!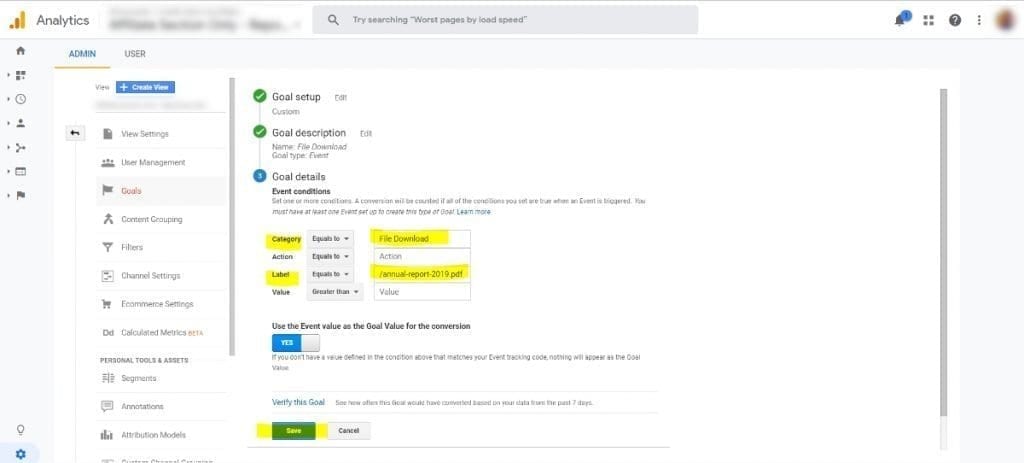 Now That My Goals Are Set Up… Where Can I See Them?
Sign into your Google Analytics property and navigate to the View in which you set up the goals.
Navigate to the Conversions > Goals > Overview report.
From the dropdown list select your Goal type.
From here you can view the number of Goal completions, Goal conversion rate and abandonment rate, etc for your specified goal.
Goal conversion data also appears in other reports throughout Google Analytics, for example the the Acquisition reports. This allows you to easily compare your various traffic channels against your website goals.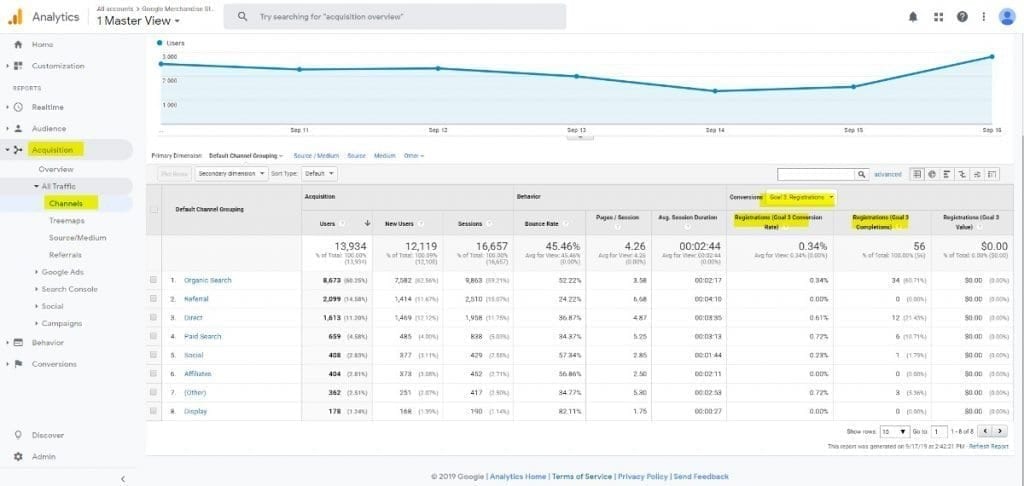 I hope this guide was helpful and really would appreciate any feedback! If you think I've omitted something or if you have any questions related to Google Analytics Goals, feel free to get in touch below!
Get in Touch: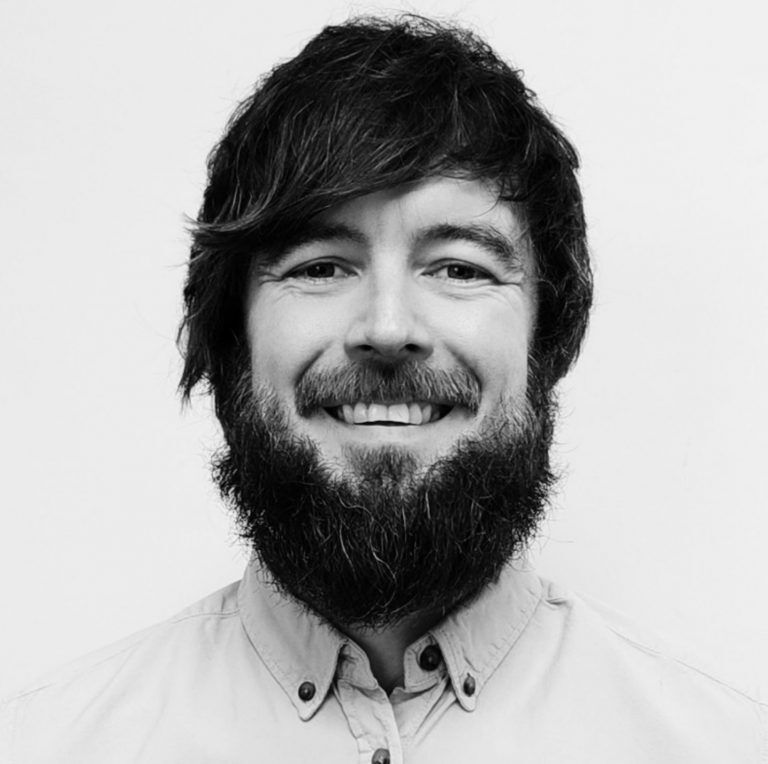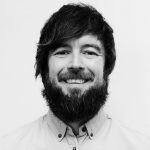 Darren is SEO Growth Lead at Velocity Growth. He is experienced in developing bespoke SEO roadmaps and implementing long term SEO strategies to build organic visibility, traffic and conversions for clients across a diverse range of industries.