When it comes to the upcoming Irish general election, I'm sure many of you, like me, are undecided as to who you should vote for.
Given that both of the front-runners (according to the latest IPSOS poll) , Fianna Fáil and Fine Gael, are virtually indistinguishable from each other in every other meaningful way, I've decided to go with what I know and compare both parties on the basis of… SEO.
The Rules:
I've reviewed both Fine Gael and Fianna Fáil's main websites in terms of some of the key aspects of Search Engine Optimisation.
Points will be scored for:
Note: both parties at the moment have replaced their usual websites with election microsites. Fine Gael have created their microsite on a subdomain – election2020.finegael.ie whilst Fianna Fáil have simply replaced their old site with the microsite at root domain level – fiannafail.ie.
Round 1: Technical SEO
Technical SEO optimisation concerns the technical building blocks of a website: HTML code, URL structure, HTTP status codes, XML sitemaps, etc. A website's technology is all about making sure search engines can crawl and index all your content and in the right way.
1.1 Robots.txt
Why its's important: Your robots.txt file instructs robots (typically search engine robots) how to crawl and index pages on their website. It also restricts access to certain pages.
Best practice: You should ensure your robots.txt file includes sitemap directive and does not contain any unnecessary disallow directives.
Fianna Fáil
Fianna Fáils robots.txt file looks to be simply autogenerated by their CMS (WordPress). It basically speaks to all crawlers together (User-agent: *) without specific instructions for particular bots (e.g. Googlebot) which is pretty standard.

It tells crawlers not to crawl anything within the logged in CMS area ,/wp-admin/ (which is good because you don't want your inner CMS pages being indexed) with the exception of /wp-admin/admin-ajax.php – this is a default setting in WordPress because some themes rely on this page so it were excluded, Google may have issues crawling those sites.
One glaring omission from the robots.txt file is a Sitemap directive which tells Google and other crawlers where to find the sites xml sitemap for easier crawling.
Fine Gael
Fine Gaels robots.txt file is very basic – it allows all crawlers (User-agent: *) to crawl everything on the site (Allow: / ). I'm going to give them the benefit of the doubt and assume that there's no sensitive content that should not be crawled that should be disallowed here as it's a relatively simple temporary microsite.

On the plus side – they do direct crawlers to the xml sitemap so crawlers can easily make sense of the website content.
Verdict
Really close and nothing too exciting to report from either but Fine Gales sitemap directive shades this one.
Fine Gael 1 : 0 Fianna Fáil
1.2 XML Sitemaps
Why it's important: XML sitemaps feed search engines data on the pages of the site as well as the crawl priority or hierarchy of site content.
Best practice: You should create and optimise an XML sitemap and submit to search engines through tools like Google Search Console and Bing Webmaster Tools.
Fianna Fáil
Fianna Fáil have a comprehensive sitemap index file – a sitemap index file can be utilized for websites with a large number of URLs to give search engines a clear idea of the site's content, URLs and the entire information architecture.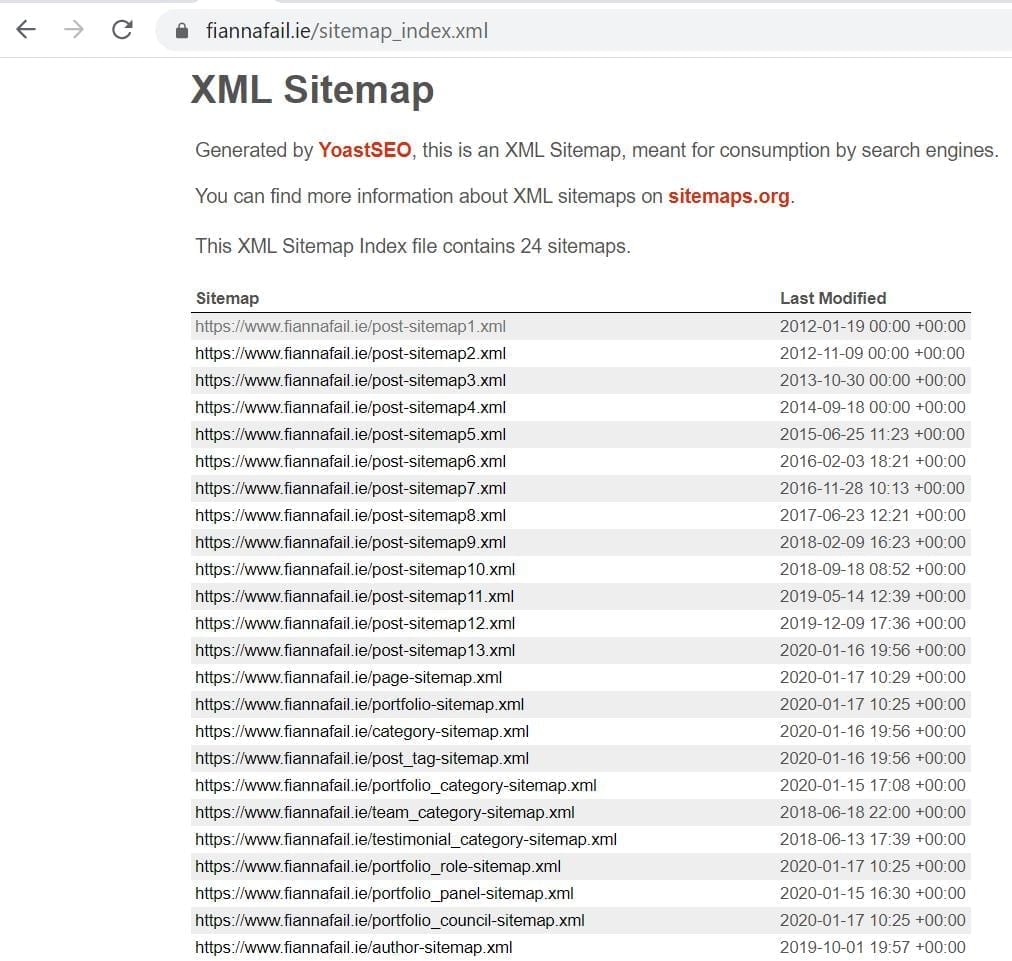 Again, this seems to have been automatically taken care of by the WordPress plugin YOAST and can be found at /sitemap_index.xml
Fine Gael
Fine Gael don't use a sitemap index file, just a regular single xml sitemap. Again, given that this is for the subdomain election2020.finegael.ie and not the entire domain, I would have no real issue here. The file doesn't look as pretty as the Fianna Fáil version as it hasn't been automatically styled by the YOAST plugin – but we can't dock any points for that.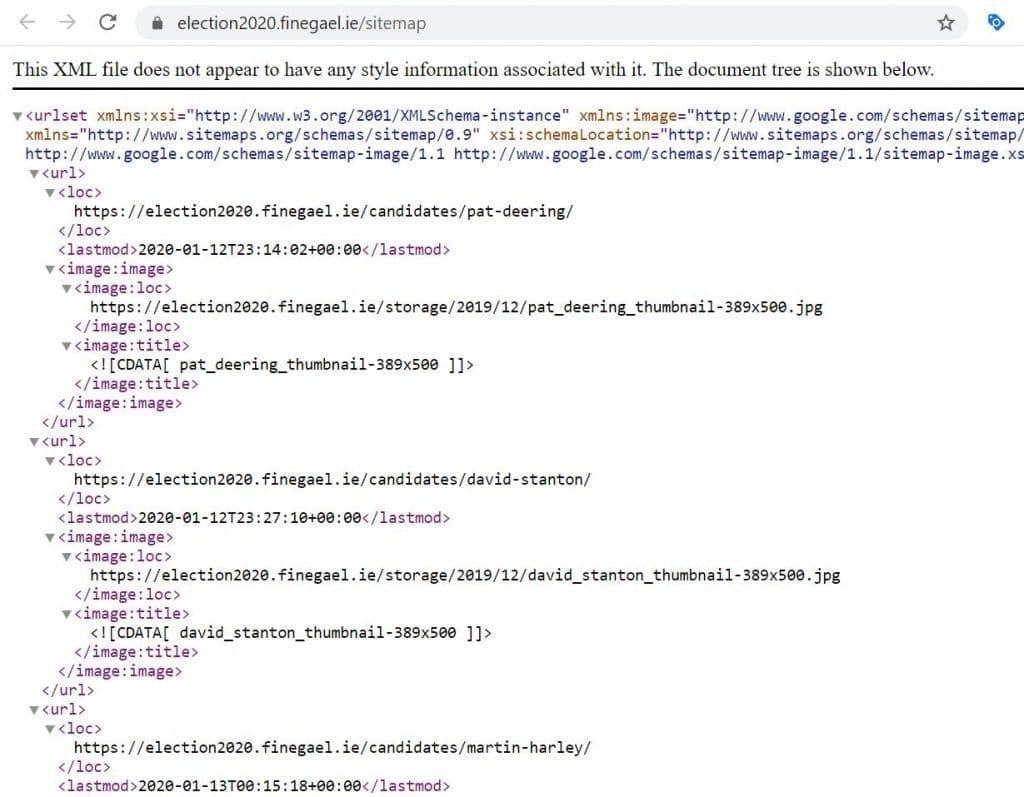 The file can be found at /sitemap (rather than /sitemap.xml which would be better) – this URL is unlikely to cause any great issues rather than confusion for savvy site users (because really you would expect to see a HTML sitemap in that location). I'm sure search engines will find it just fine, but it is technically against best practice.
Verdict
Another close one here – Fianna Fáil shade this one by the finest of margins due to a technicality (no .xml extension on Fine Gaels sitemap).
Fine Gael 1 : 1 Fianna Fáil
1.3 Page Speed
Why it's important: Google has indicated site speed (and as a result, page speed) is one of the signals used by its algorithm to rank pages. And research has shown that Google might be specifically measuring time to first byte as when it considers page speed. In addition, a slow page speed means that search engines can crawl fewer pages using their allocated crawl budget, and this could negatively affect your indexation.
Best practice: You should ensure pages are as fast as possible in terms of minifying CSS, Javascript and HTML; redirects, render blocking JS, server response time, images and browser caching.
Due to the fact that it would take me until 2021 to test the page speed for all pages on each site, I'll be basing this test on a sample of two sets of two comparable pages from each site, namely – the homepage and the most recent news item from each at the time of writing. My page speed testing tool of choice is GTmetrix.
Home Page:
So whilst technically Fine Gael got better PageSpeed and YSlow scores, it actually took more time to load (9.5s vs 7s).

This was too close to call for me so, whilst I'm usually to stubborn to use it due to the inconsistency (I've seen a page get 7/100 in one test then 24/100 a minute later), I'm going to defer to Google PageSpeed Insights to call a winner.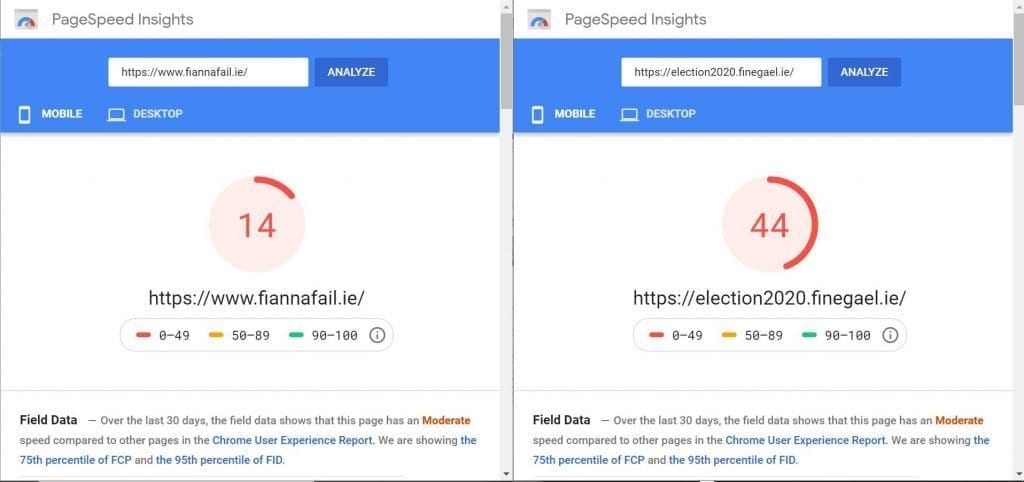 And there you go – Fine Gael by a distance in this case.
News Page

To me, this is a pretty obvious win for Fine Gael, but given that both pages took 3.3 seconds to fully load, again I decided to get a second opinion from Google Pagespeed Insights.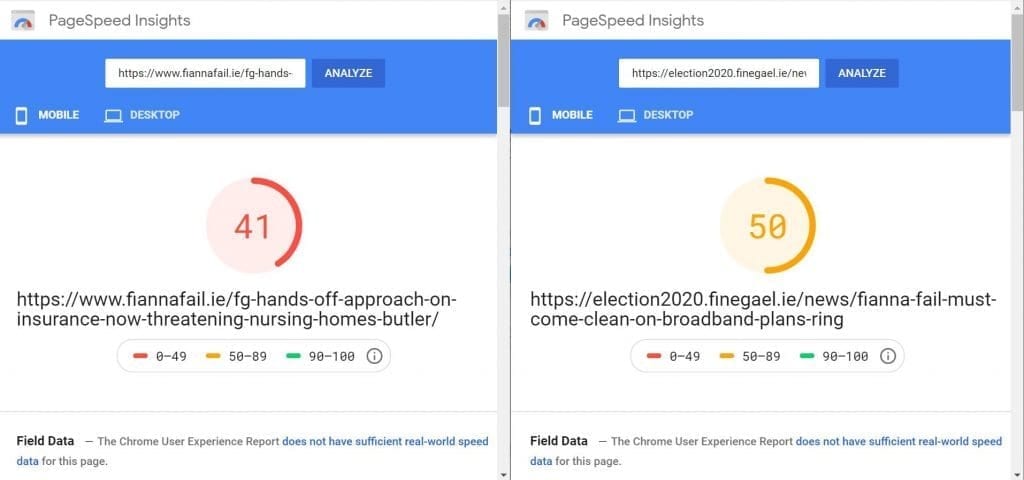 There we go, Fine Gael again.
Verdict
It will be interesting to re-run a similar test post-election when both sites are back to normal on their full domains with more content. But for now, you can't argue with a Fine Gael win here.
Fine Gael 2 : 1 Fianna Fáil
1.4 HTTPS Status Codes
Why it's important: The "s" at the end of the "http" part of a URL means the website is secure. HTTPS (Hypertext Transport Protocol Security), or secure, sites include the SSL 2048-bit key and can protect a site connection through authentication and encryption. When installed on a web server, an SSL certificate activates the padlock and the https protocol and allows secure connections from a web server to a browser. While at this current moment the SSL SEO impact isn't overwhelmingly negative (having a secure site won't make or break your rankings), things seem to be moving in that direction. Google's Webmaster Blog hints at a fully secure web in the future: "As migrating to HTTPS becomes even easier, we'll continue working towards a web that's secure by default."
Best Practice: For security, SEO and UX purposes, you're site should be secured with an SSL certificate.
Both Fianna Fáil and Fine Gael have secured their websites with HTTPS.
Verdict
A pretty straightforward one here – a draw, a point each.
Fine Gael 3 : 2 Fianna Fáil
Round 2: Content / On Page SEO
Content Optimisation deals with optimising title tags & meta descriptions, headings, content structure, readability, topical focus, etc. When search engines can crawl all your site's content, that doesn't mean they know what your content is about. The relevance aspect of SEO looks at the different elements of your content to make sure that search engines can interpret and contextualise it.
Optimising title tags, headers properly structured content and focusing on one core topic per page including the right semantic signals, etc. will ensure that Google and other search engines can understand the focus of your context and index it accordingly.
2.1 Page Titles
Why it's important: Page titles are a very important SEO factor in that they create value in three specific areas: relevancy, browsing, and in the search engine results pages. When more than one page on a website has the same title tag, it makes it difficult for search engines to correctly categorize and rank each page.
Best Practice: You should optimise title tags to be relevant and tell users and search engines what the main content on the page is. Ensure there are no missing, duplicate, long or short title tags. Google typically displays the first 50–60 characters of a title tag.

Note: Again, due to time constraints, I can't review the relevance of each page title individually. I'm also ignoring long and short page titles because, in my view, the 50-60 characters more of a guide than a rule. Instead, I've focused on missing and duplicate title tags.
Fianna Fáil
At first glance things don't look brilliant for Fianna Fáil almost 15% of Page Titles considered to be duplicates by crawling tool Screaming Frog – thats 2,526 pages with duplicate titles!
However on further inspection, the majority of affected pages are either canonicalised or tagged with a meta "noindex" tag, rendering them perfectly acceptable.
Only 169 genuine duplicate page titles exist on the site – that's less than 1% of all page titles. Many are due to the double publication of the same news stories e.g.:
https://www.fiannafail.ie/bravery-award-for-jadotville-veterans-the-least-the-state-can-do-martin/
and
https://www.fiannafail.ie/bravery-award-for-jadotville-veterans-the-least-the-state-can-do-martin-2/
As for missing Page Titles, none were identified in my crawl of the site.
Fine Gael
As for Fine Gael, well starting off a much lower base of total live URLs (159) due to the fact we crawled the election2020.finegael.ie specific sub-domain.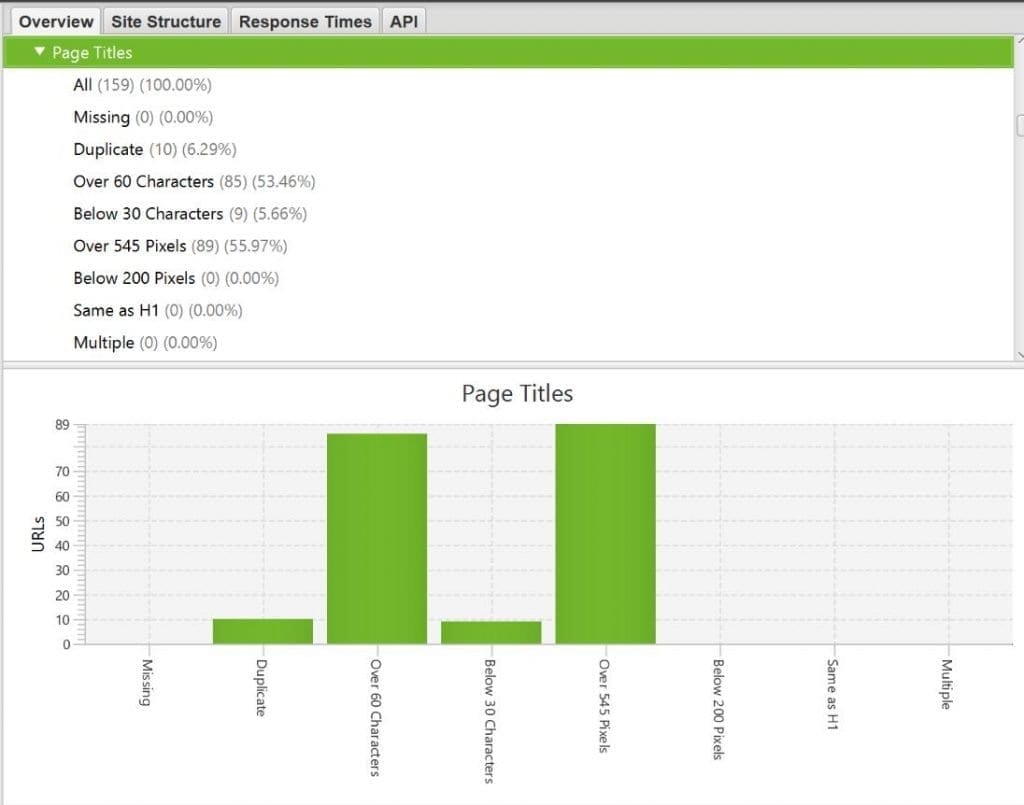 Of that 159, 6.29% have duplicate page titles.. and none of those URLs with duplicate titles are canonicalised or no-indexed.
Again, no missing Page Titles were identified in my crawl of the site.
Verdict
I wasn't expecting this at first glance of both results – but on further investigation, Fianna Fáil come out on top here due to having a lower percentage of indexable duplicate page titles (<1% vs 6.29%)!
Fine Gael 3 : 3 Fianna Fáil
2.2 Meta Descriptions
Why it's important: Whilst not a ranking factor, meta descriptions are really important in giving search engines extra information about the associated page's content. Also a well optimised meta description increases likelihood of click through from SERP.
Best practice: You should optimise meta descriptions to encourage click throughs and accurately describe page content. Make sure each page has a unique meta description that is not too long or short. Meta descriptions should be between 400 and 930 pixels (approx 70 and 156 characters).

Again, I've focused on missing and duplicate meta descriptions.
Fianna Fáil
Straight off the bat… 93% of pages appear to be missing meta descriptions… this doesn't look good!
Of the 16,101 flagged by Screaming Frog below, 14,955 were not canonicalised or noindexed, i.e. they are indexable pages without meta descriptions. This is not good.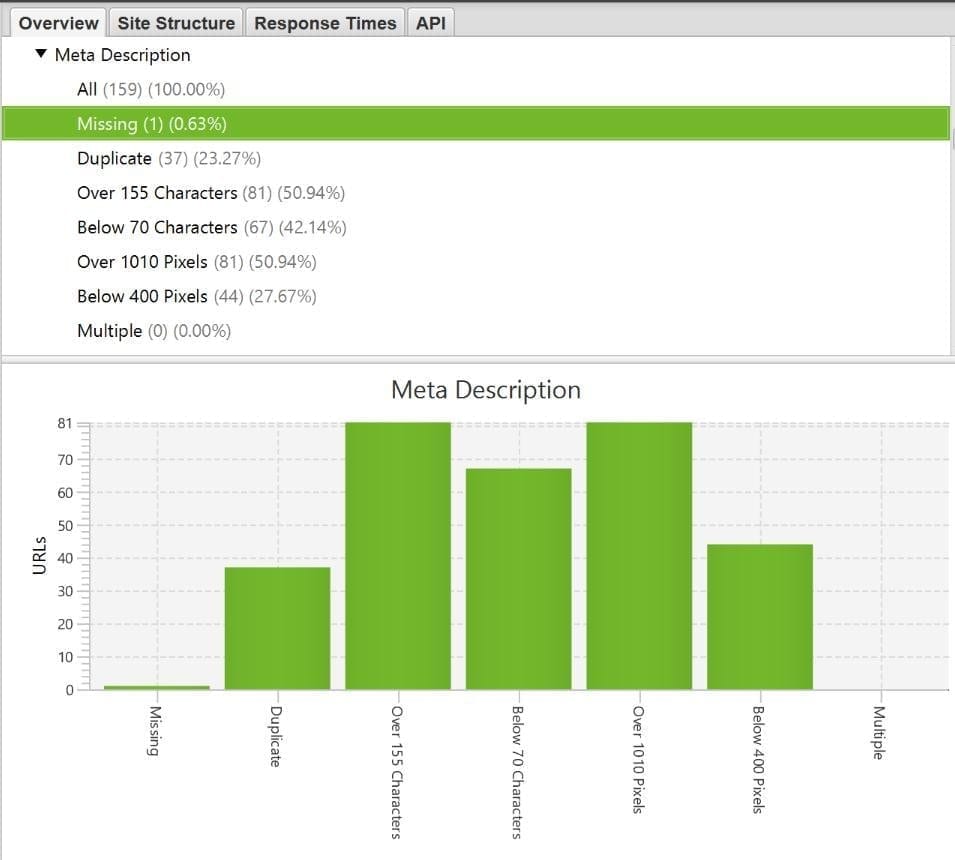 Note: Not setting a meta description is by no means the worst thing in the SEO world – if you do fail to set a meta description, Google will dynamically pull whatever it considers the most relevant snippet of content from your page automatically and use that. However, since meta descriptions influence user click-through rates, it's best to take the time to optimize them to encourage users to click through to your page from the SERP.
As for duplicates, 1,213 duplicate meta descriptions looks bad at first glance but, again, all of these are canonicalised versions of a paginated page – so not a problem for search engines.
Fine Gael
Again, we're starting off a much lower base of 159 URLs here due to the fact we crawled the election2020.finegael.ie specific sub-domain.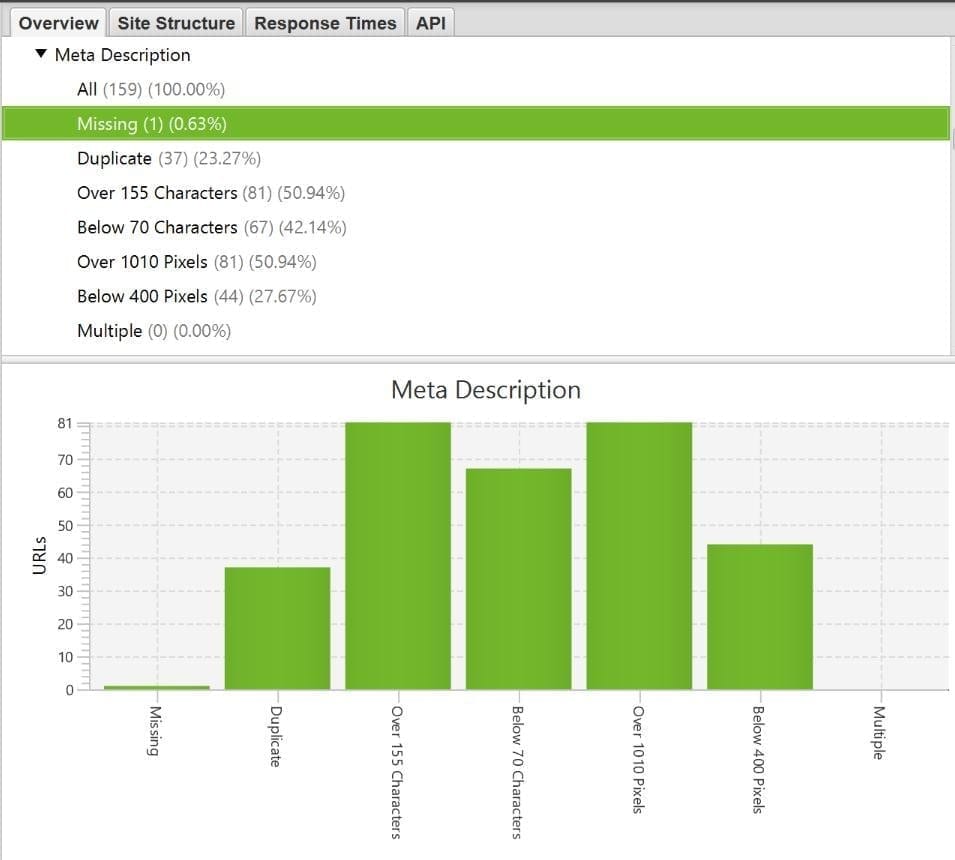 1 of those is flagged as having a missing meta description but that page is noindexed, so there's no problem there.
As for duplicate descriptions, of the 37 flagged by Screaming Frog, all are indexable – not good.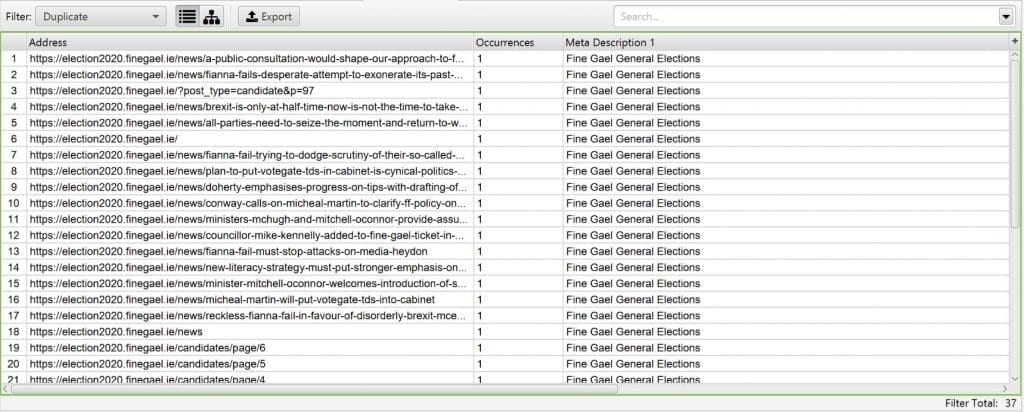 Verdict
I can't bring myself to give a point to either party here – both performed pretty awful. So still…
Fine Gael 3 : 3 Fianna Fáil
Round 3: Authority / Link Profile
Authority is achieved through links and citations which indicate to search engines that your website is a trusted source. Great content alone is not enough to rank well in search results. You need to be seen as a trusted source, which is where the authority aspect comes in. With sufficient links from other trusted websites, your site will be seen as trustworthy as well and search engines will rank your content higher in search results for relevant queries.
There's no way to know exactly how trustworthy Google considers your website. Many different tools attempt to approximate it in different ways. To decide the winner of this round, I'll be using MOZ Open Site Explorer's Domain Authority metric.
Domain Authority is a combination of other link metrics — linking root domains, number of total links, MozRank, MozTrust, etc. — into a single DA score. This score can then be used when comparing one site to another or tracking the "ranking strength" of a website over time.
Verdict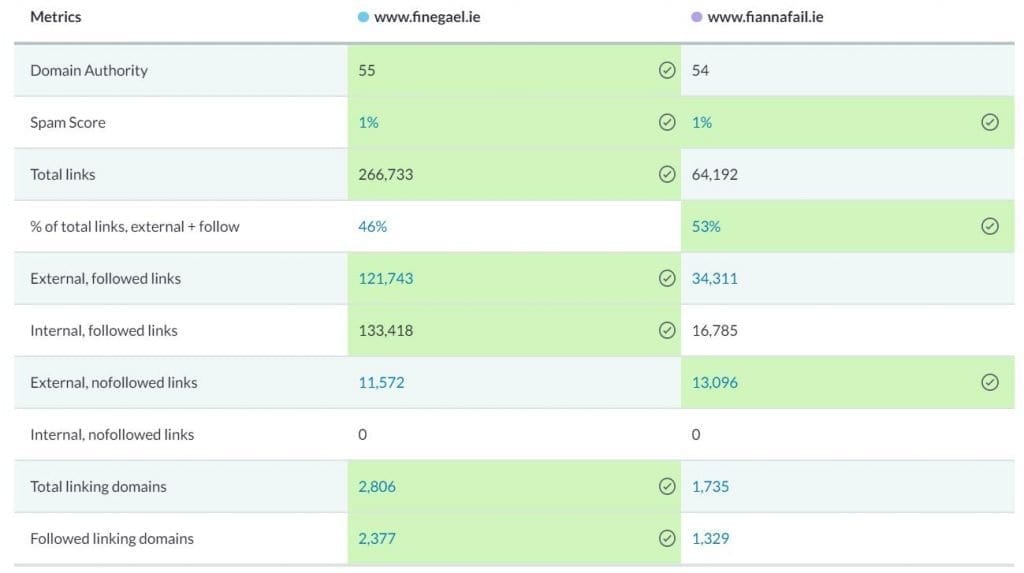 As you can see from the chart, Fine Gael wins here by the narrowest of margins – 55 to 54. Overall the www.finegael.ie website has 266,733 inbound links vs 64,192 for www.fiannafail.ie. 133,418 of those are "followed" meaning that they have not been forced not to pass SEO value to the domain via a "no-follow" attribute.
So the final score… Fine Gael 4 : 3 Fianna Fáil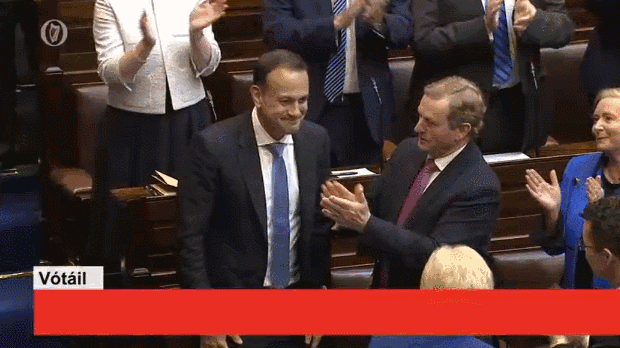 But What Does All This Mean??
In terms of who you should vote for? Absolutely nothing. (Try here for help with that)
But, I hope this has given you an overview of some of the most important aspects of a website when it comes to SEO. If you want to read more about the principles of SEO, try this blog post.
If you'd like help with your own SEO efforts, get in touch!
Want a FREE SEO audit?
Every quarter I'm giving away one free SEO audit to one subscriber. Subscribe below and don't forget to include your websites URL.
My SEO Services: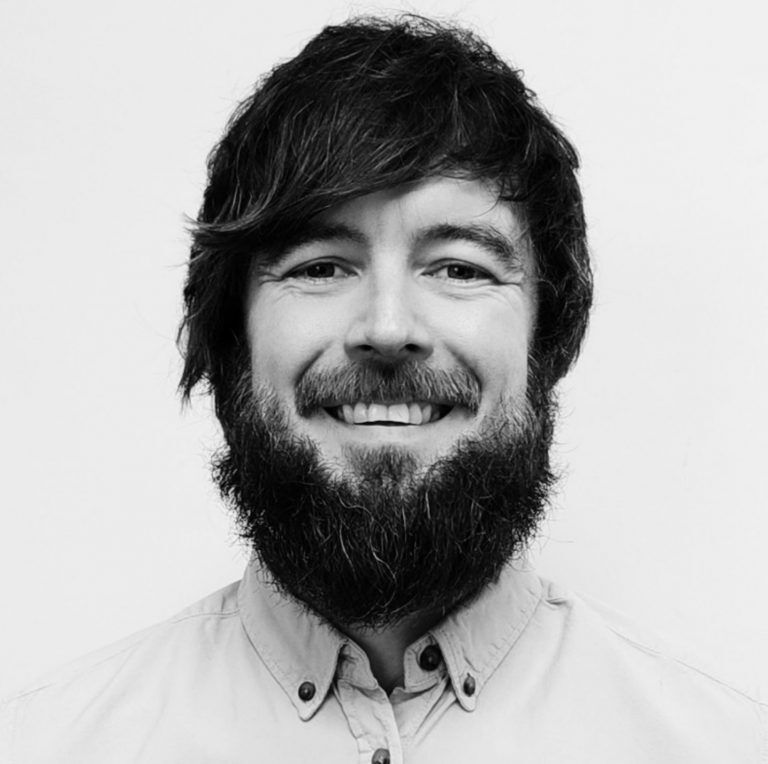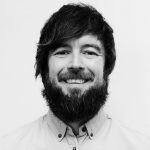 Darren is SEO Growth Lead at Velocity Growth. He is experienced in developing bespoke SEO roadmaps and implementing long term SEO strategies to build organic visibility, traffic and conversions for clients across a diverse range of industries.