When reporting on Users in Google Analytics, very often all is not as it seems at first glance. Due to the way in which Google identifies individual users, and quirks in how particular metrics and dimensions have developed and been re-labelled over time, it's important to keep a few things in mind when looking for what might be thought of as relatively straightforward information from your Google Analytics reports. In this blog post, I hope to explain three of the main quirks in Google Analytics when it comes to reporting on Users, which ultimately can turn what should be a relatively straightforward process into an absolute pain in the arse.
1. How Google Identifies "Users"
TLDR: Google Analytics can't accurately track unique individual users due to the method by which Users are identified (the _ga cookie).
In order to associate traffic with a particular user, Google Analytics associates a unique identifier with each user and sends this with each hit. This identifier is usually a single, first-party cookie named _ga that stores a Google Analytics client ID. This will help distinguish the person as a "new user". When the same user visits your site at a later time, they will be counted as a "returning user".
This method of identifying users is, unfortunately, inherently flawed — if a person clears their browser cookies, uses incognito mode in their browser, or if they use a different browser or different device for a subsequent visit to the site, they will appear as a 'new' individual user each time. In advanced implementations of Google Analytics, you can reduce that problem by implementing a cross-device User-ID tracking. Without that advanced implementation, some of your 'new' users are in all liklihood actually returning users. So the total Users count in any report is probably over-inflated a bit. And the complications don't stop there….
2. Users = New Users + Returning Users, Right?…. WRONG!
TLDR: The sum of new and returning visitors is wrong – never add up User numbers for a total.
The new users metric in Google Analytics is designed to let you see how many people visited your site for the first time in the specific time period that you have set in your report.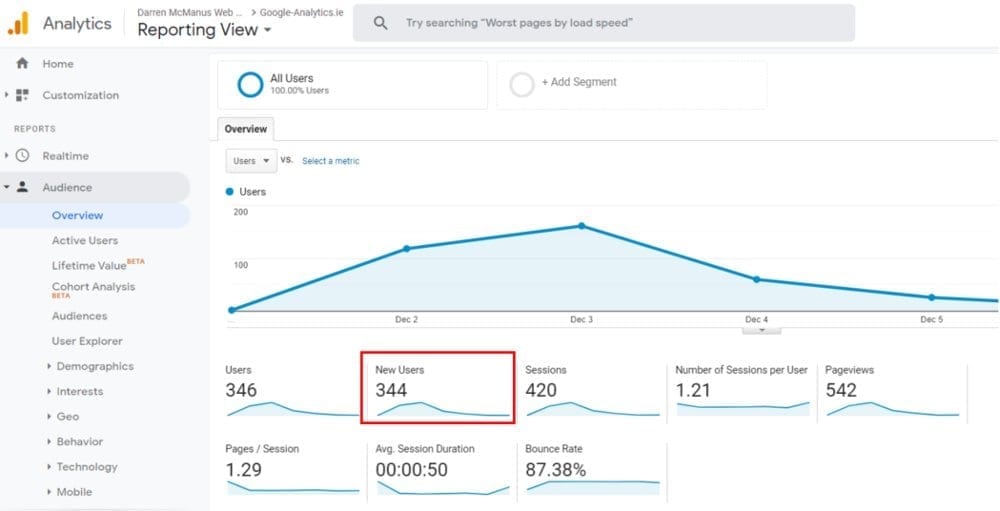 The returning users metric indicates… well, actually THERE IS NO RETURNING USERS METRIC!
There is however a Returning Visitors DIMENSION in the "New vs. Returning" report. This dimension is meant to give you an idea how many users that previously visited your site, came back to it. For content sites —a high number of Returning Visitors could indicate that users find your content valuable and are returning to consume more of it.
Dimensions are attributes of your data. For example, the dimension City indicates the city, for example, "Paris" or "New York", from which a session originates. The dimension Page indicates the URL of a page that is viewed.

Metrics are quantitative measurements. The metric Sessions is the total number of sessions. The metric Pages/Session is the average number of pages viewed per session.

The tables in most Analytics reports organize dimension values into rows, and metrics into columns.

Google
If a users' first ever visit to the site was within the date range selected, and they returned a second time within that time frame they would be counted in both the New Visitor AND Returning visitor rows.
It's important to note here that a user who first visited your site before the date range applied to your report, then returned to the site within that date range, will be counted as a Returning Visitor, but not a New Visitor.
Therefore, confusingly, the "Users" figure in Google Analytics will not equal the sum of New Visitors and Returning Visitors.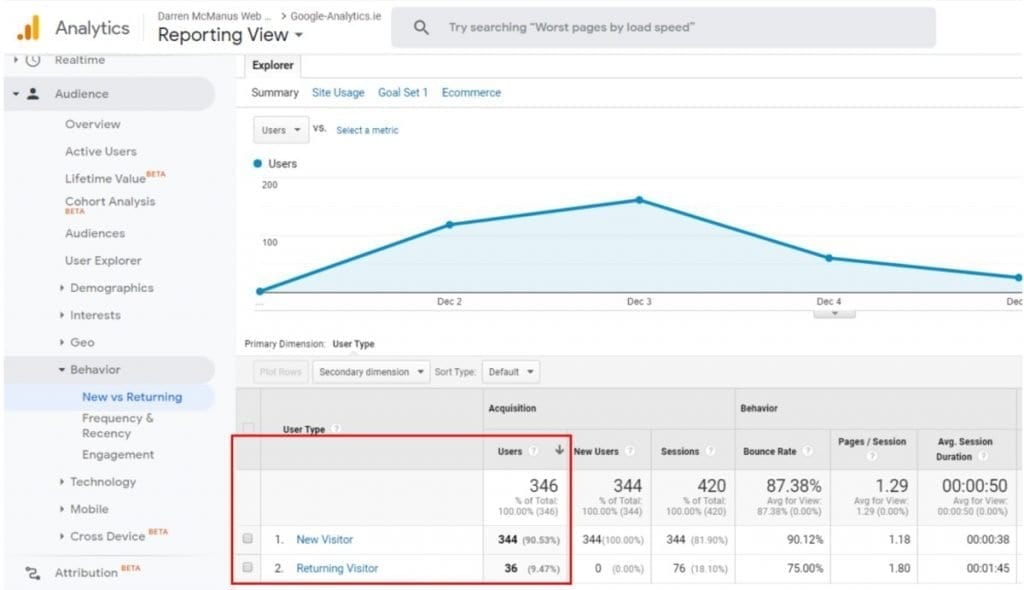 In the example above New Visitors (344) + Returning Visitors (36) = 380.
However, the total Users figure is 346.
Obviously in this case, in the time frame selected 34 New Visitors also returned to the site within the time frame and were also counted in the "Returning Visitors" row.
To confuse things even further, Google Uses these New Visitor and Returning Visitor dimensions as the basis for two segments named… you guessed it… "New USERS" and Returning USERS".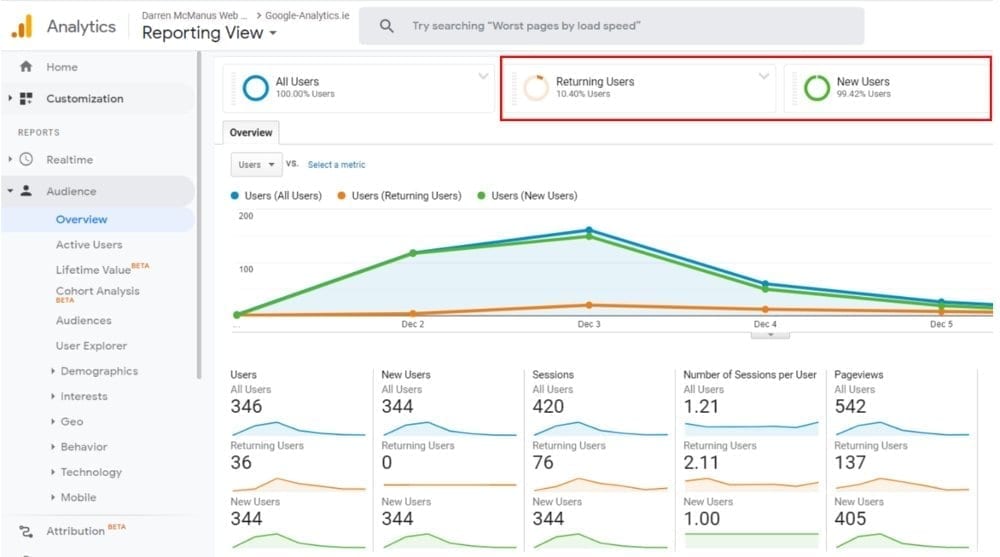 3. Manually Adding Up Users Doesn't Work
TLDR: NEVER manually add up the Users numbers in your reports to get a total Users figure.
A single website user can have multiple sessions represented in any of the predefined Google Analytics reports you might look at. A user might enter your site from a PPC advert then come back directly a couple of hours later and 2 days after that might arrive via a Social post. Or they might visit your site on mobile during the day on their commute to work, then return on desktop to make a purchase later that day from their home. A business person could browse your site from Dublin on Monday and return to finish reading a blog post from their hotel in Frankfurt on Tuesday.
This is why you can NEVER add up the Users numbers in your report to get a total. Individual users could be counted in multiple rows and your total would include duplicates. if you want a total, get a total unique user count, not a sum. A total unique user count can be obtained by asking for 'Users'…that's it, no Date column, no Source, no Country…just 'Users'.
Therefore, if you're looking at user data and trying to manually add user figures from various devices, dates, channels or any other dimension, don't expect the total of the manual calculation to equal the total User figure for that same period.
In the example below, we see that there were 118 users recorded on 2nd December and 161 users recorded on 3rd December.
118 + 161 = 279
But the "Users" figure for the two days is 268… 11 less than our manual calculation.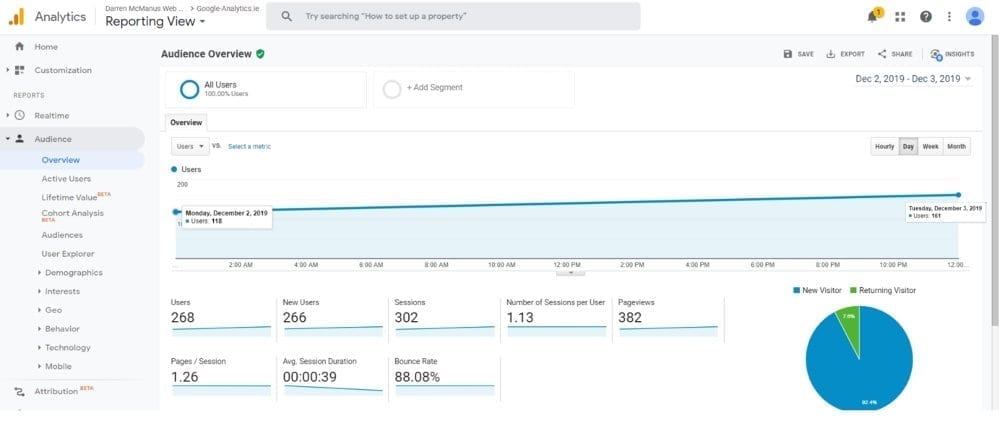 So what's going on here? Well 11 users visited on both days. Therefore logically Google Analytics deals with this by including all users as individual users within the scope of each single day. But within the scope of the overall time period it does not double count. If you think about it, this makes sense – but it's easy to forget when working with data manually!
Summary
Google Analytics can't accurately track unique individual users due to the method by which Users are identified (the _ga cookie)
The sum of New Visitors and Returning Visitors is wrong – never add up User numbers for a total
Never manually add up the Users numbers in your reports to get a total Users figure
I hope this cleared up some confusing aspects of User reporting within Google Analytics and would love any input or feedback at darren@google-analytics.ie.
If you are an Irish business owner looking for help with your website tracking, take a look at the Google Analytics Consultancy section on my website to see if you think I would be a good fit for your organisation.
Get In Touch: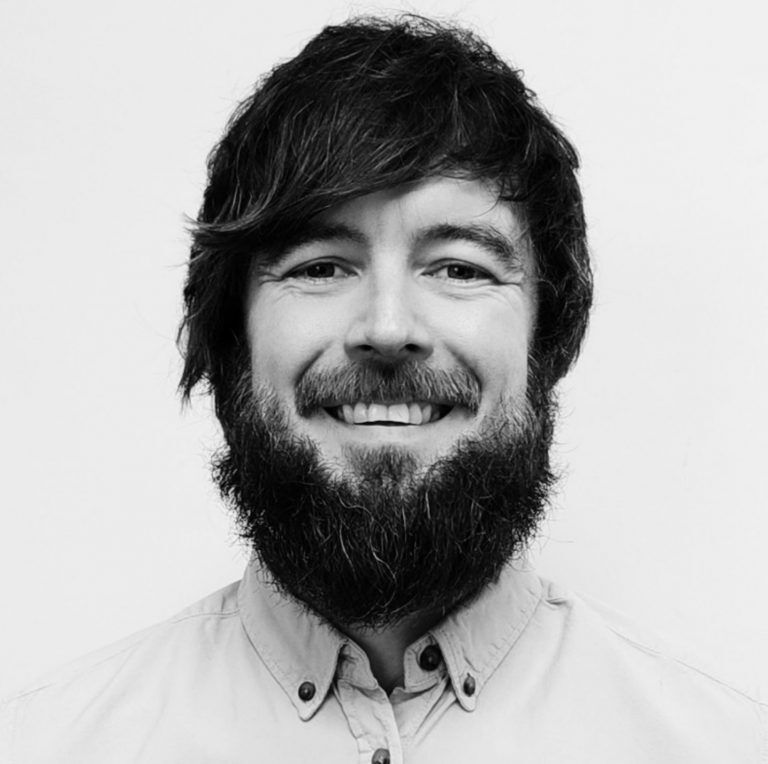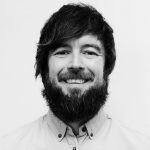 Darren is SEO Growth Lead at Velocity Growth. He is experienced in developing bespoke SEO roadmaps and implementing long term SEO strategies to build organic visibility, traffic and conversions for clients across a diverse range of industries.